A brief history of my World War Two activities.
On March 11th 1942 Nellie and I became engaged (Banner photo above was taken on their engagement) and on the day following I had to report to Norton Manor Barracks just outside of Taunton to become a soldier. Becoming a soldier is not quite as instant as it sounds in my last sentence. To begin with you have a medical check to make sure the one you had before your call up is OK. I, the former weakling was now pronounced A1. Then there were injections against Typhus and Typhoid and a Smallpox vaccination. I was really ill with the latter, a sure proof that I needed it if I ever came into contact with the dread disease.
However the real awakening came on the parade ground. Staff Sergeant Brough, who claimed he could make himself heard a mile away was the power behind the other drill sergeants and bombardiers. (It was a Royal Artillery training camp and bombardier is the equivalent of corporal in other regiments). There was also a Regimental Sergeant Major whose name I forget who was quite a hard man too.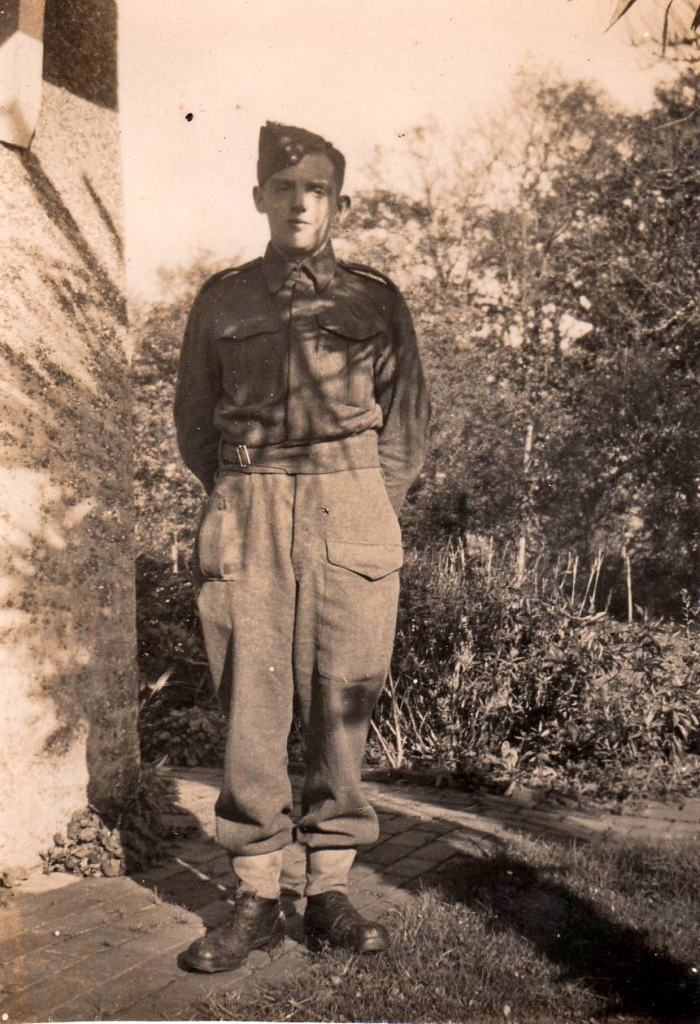 Now a Soldier!
We marched, about turned, wheeled, open order marched, saluted to the left, saluted to the right, drilled with rifles, drilled without rifles for six weeks. By which time we were considered fit to march through Taunton! That was the show piece of our training, led by a band. We were then ready to go on to the next phase of our training, which was to be on Bofors 40 millimetre light anti aircraft guns. A very effective mobile gun with a crew of about six to eight according to whether laying on the target by hand or by predictor. This training was to be at Hounstone barracks at Yeovil Somerset. Hounstone was nearly as tough as Norton Manor had been. We were divided into detachments to train, my detachment commander being a Lieutenant Mr Keene, under him was Corporal McKenna. Both of these had worked in the Rank flour mills before the war at Hull. Also we had a lance corporal who we nick named "Bushy" because of his moustache. They were a good team whom we recruits respected, therefore we tried hard to learn from them.
On the first Sunday evening at Yeovil I decided to go into town to find a church, and had just entered the built up area when I saw a building with the notice "Preston Gospel Hall" Welcome to H.M. Forces. I thought it sounded promising, and after the service was invited to the home of the man on the door a Mr Baker. He and his wife were wonderful, I was always made welcome during my 8 weeks at Yeovil. They had a daughter Eileen who I believe was about 17 at the time. She and her father worked at the Westland Aircraft Factory. Mr & Mrs Baker have long been called home, but Eileen is still our good friend, and we stay for a few nights at her home from time to time.
From Yeovil we moved to Penhale Firing camp near Perranporth in Cornwall to put into practice what we had been learning by firing at a sleeve or droze pulled by an aircraft. It was June and glorious weather, and the best food since leaving home. Firing only occupied part of our time and after 14 weeks of intensive training Penhale came as quite a rest. At the end of two weeks we were to be sent to various reserve camps ready to go as reinforcements to units depleted or form new anti-aircraft units. However at that time the German U boats were taking a toll of our merchant shipping, and the production of our own food was of great importance, so food producers could apply to have their former workers released for a months agricultural leave to work on their holdings. Mr Pryke applied for me so at the end of our course home I came for 4 weeks. My 21st birthday came during this period and he gave me the day off for this and Nellie was given the day off too. She had worked for her father on his farm until his death, then for a short time her brother in law Will Jeffery who took the farm over, but by now she was working for my Uncle Bert Starnes at Crockstead milking and doing general farm work such as dung spreading, that is throwing it evenly over the fields with a dung fork, very hard work, or perhaps in the season picking up potatoes in a huge bushel trug and on into 1 cwt sacks, or maybe digging and lifting swedes, mangolds or sugar beet, haying, harvesting or hedge trimming. I sometimes wonder if the hard work of her young days contributed to the back problems she has had since.
To come back to my 21st birthday, my Aunt Annie at Crockstead very kindly gave a lovely birthday party for me with her own family and my cousins Eva and Amy from Framfield coming too, and also my Aunt Grace Berry another kind sister of my mothers who had earlier taught me to play the American Organ. I might add here that as well as Nellie's work which involved getting up at 5.30 am to cycle to Crockstead for early milking, and working every other Sunday she was a fire watcher and if the air raid siren went off in the night she had to get up in case incendiary bombs were dropped.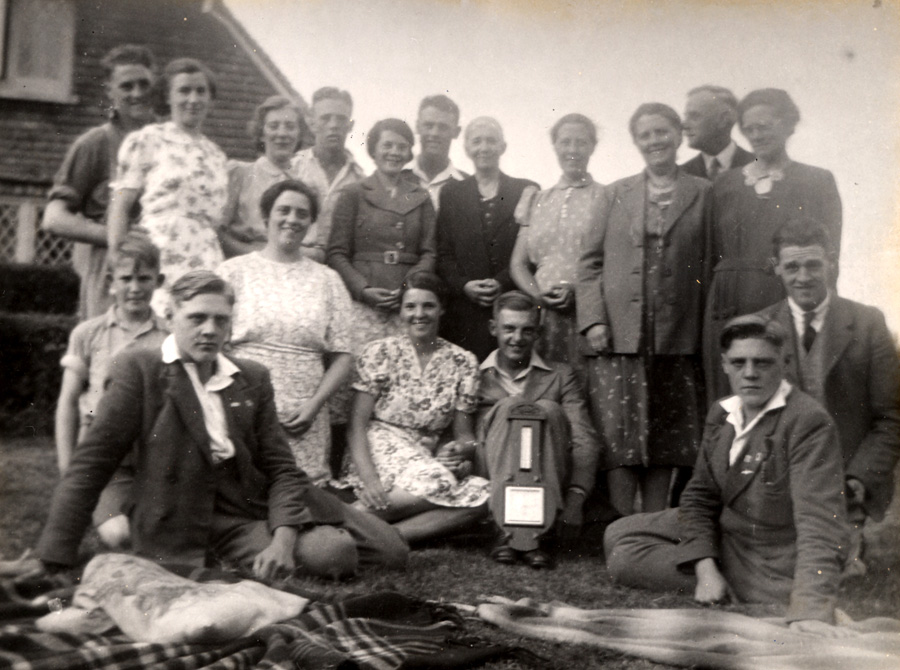 21st Birthday Party at Crockstead
Well at the end of 1942 my agricultural leave came to an end, and I had to report to an anti-aircraft reserve regiment at Cleethorpes. I felt more home sick at that time than at any time during my service in the army. Rumours were rife as to where we were to be sent, also that we might be sent without embarkation leave, so perhaps no chance to say goodbye to loved ones. Also there were some quite unsavoury characters there who were Dunkirk veterans who indulged in either gory or filthy stories of their experiences in France. Most of them probably exaggerated, but they did nothing to help us who were little more than recruits. At that time I had only one man I could relate to a John Ingham who like me had been given agricultural leave from Penhale. I didn't know him there, but we were posted to the 39th Light Anti-Aircraft Regt together and were both in that unit, although not physically together until it was disbanded in January 1945. The only other character I remember from Cleethorpes days was a fussy little major who was our C/O, we nick named him the "Little Fuhrer" after Adolf Hitler.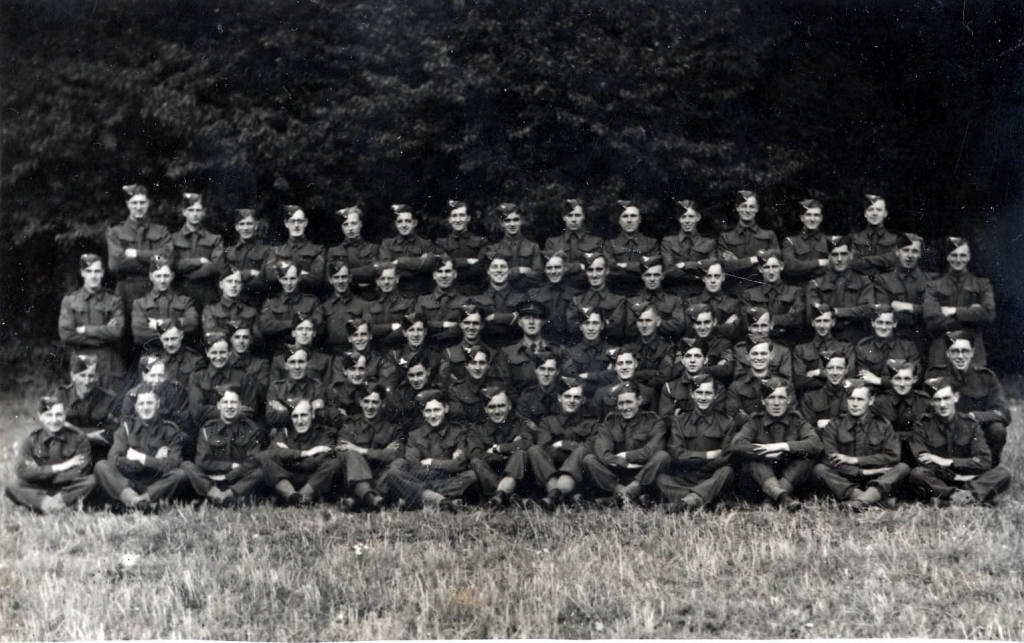 39th Light Anti-Aircraft Regiment 111th Battery Hitchin Wood
About the middle of August 1942 a number of us younger soldiers were posted to 39th L.A.A. Regt which was in camp at Hitchin Wood, a wood about 3 miles from Hitchin, Herts. The regiment was preparing to go overseas, but where no one knew. When I joined the 39th Light A/A (Anti-Aircraft) Regiment using 40 mm Bofors A/A guns. I was allocated to 111th Battery D Troop. I arrived at Hitchin Wood in time for 6 weeks of infantry training before more serious A/A training for overseas. The infantry training stood us in good stead when in August 1944 we were ordered to leave our Bofors guns behind us and go into the front line as an infantry regiment. Reinforcements who joined the 39th at a later date did not have this benefit.
At the time I joined intensive training was going on, not just with anti-aircraft guns, but also infantry training in case we had to resort to this. There was a large common opposite our camp where this training was carried out. Not only was there the usual assault course, and training in tactics, but also at times we would form a line in a clear part of the common, and be ordered to proceed straight ahead. Whatever obstacle lay on our path we must not deviate from a straight line. Our motto was "Get through it". I have been thankful for that tough course many times in my life when things had been difficult. What did St Paul say? "I have fought the good fight, I have kept the faith" Yes he went straight ahead. Alas I have often failed, and yet often in difficult times I am thankful for Hitchin Wood.
Another blessing from Hitchin Wood was that those who were near enough could sometimes get leave to go home from mid afternoon Friday until midnight Saturday. It took a long time to get either by bus or train to Kings Cross, then underground to Victoria, train to Lewes or Uckfield and walk to Halland from there but it was worth it. We had to go back for Sunday because our C/O Colonel McKay insisted on Church Parade and then the rest of the day on what would now be called orienteering.
In October we went to Butlin's camp at Clacton for a week which was now an Ack-Ack firing camp, and by November our camp at Hitchin Wood was a muddy mess. Some of the tents leaked too, so the war office gave us all an end of course leave for one week and then we moved to some large Victorian houses in South Croydon. From here I could make the Friday to Saturday break quite easily but still had to be back so that Col McKay could take the salute as we marched past him after Church Parade at St Matthews Church, near East Croydon station. During our time here final preparations were made for us to go abroad. The American 5th and British 1st Armies had landed in Algeria and advanced into Tunisia, while the 8th Army after El Alamein was racing through Libya and it was fairly apparent that we would be joining our North African forces.
My embarkation leave covered Christmas and I said my fond farewells, Nellie came to Croydon to see where I lived, and visited the Woodhams family who made me welcome after Sunday evening services at West Street Chapel. However we were told that if we got certain jobs done to prepare our Bofors guns for their voyage we could have a few more days leave, so this brought us just into 1943.
Early in January 1943 we moved to Cark near Grange-over-Sands in Lancashire for shooting at mobile air targets, we had limited practice due to very poor weather, then we went back to Croydon.
In late January 1943 I left from Croydon to travel to Liverpool and onto the troopship "S.S. Samaria" for embarkation to Algiers. On the night we left Croydon, the Germans decided to raid London after many months lull. It was only a small raid and we left East Croydon station in the early hours and arrived at Liverpool about the middle of the next day and embarked on S/S Samaria. It had been a liner on the cape Town run before the war, but had been converted into a troop ship. We sailed on the 23rd January and formed a convoy off Glasgow the following day. We had pork for our Sunday lunch that day and it was the last food many of us wanted for several days. There was a rush for the ships rail after lunch. As we moved a long way out into the Atlantic the seas were terrific. We steamed around the top of Ireland and out into the Atlantic to avoid the U Boats.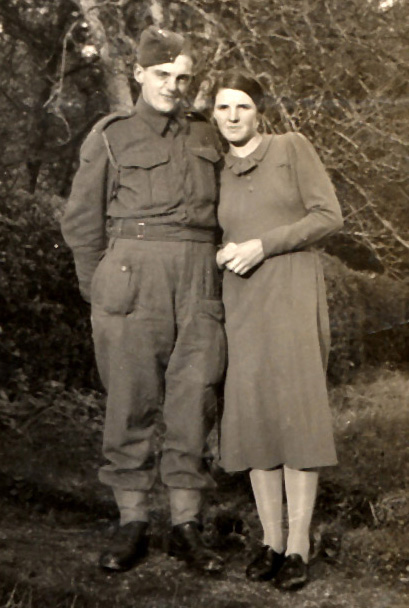 Frank on Embarkation leave with Nellie
Many of the sailors were themselves ill. Two laps of the deck of S.S. Samaria was ¼mile, yet the ship was tossed like a cork, sometimes on the crest of a wave so that the whole convoy was visible, sometimes in a trough with a wall of water on either side. I have never felt so ill in all of my life. As we approached Gibraltar the storm grew less and the seas decreased. The plane from our escorting aircraft carrier kept up a constant vigilance against U boats. It was rumoured that one was destroyed that was following our convoy. Certainly the one carrying our guns which had sailed from Barry was attacked and had to put into Casablanca because of damage to the ship.
We passed through the Straights of Gibraltar by night and arrived at Algiers on Feb 1st 1943, where for the first time in my life I set foot on foreign soil. We then went onto a brickyard 17 kilometres outside Algiers at a small village called Baraki.
Our regiment with its supporting R.A.S.C. unit numbered about 1,000 men and we were all encamped in the brickworks. We were sleeping in a rather rough, mainly wooden building with a tiled roof, uncomfortably close to one another, hardly room to stretch our legs. Daytimes were spent on route marches or other activities to keep us occupied. We could buy quantities of tangerines and oranges from the Arabs at the gates, but were warned not to eat dates or figs because of lack of hygiene. We had no bread here but lived on the notorious hard army biscuits, with stew or what not.
We were there for a fortnight until our guns arrived. The guns and vehicles sailed in a different convoy from Barry in South Wales. Some of the ships in the "Barry" convoy were torpedoed, the ships our guns and vehicles were loaded on limped into Casablanca from where our drivers collected them. After about two weeks we were ready for active service and travelled over the Atlas Mountains to Bougie, (our first permanent emplacement) a small port along the Algerian coast. This was my first experience of mountains, and as I looked down and saw Arabs looking like ants down in the valley I remember thinking "What is man that though art mindful of him". Sometimes one caught glimpses of the blue Mediterranean between the folds of mountains, an unforgettable sight.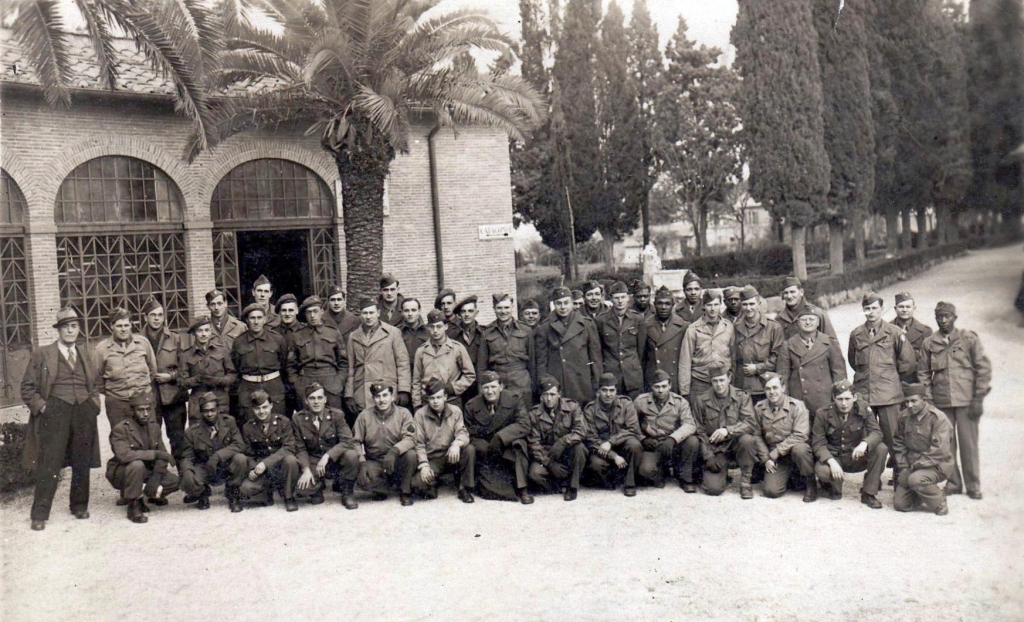 Frank pictured in North Africa in 1943. It is interesting to note the American uniforms and the fact that some Americans are Afro-Caribbean. (If you can't recognise Frank he is in the middle back row just to the right of the man with the drainpipe coming out of his head! Frank's wearing that fabulous hat!)
At Bougie under the supervision of Sergeant Foxhall, who had been my detachment commander since Hitchwood we made our gun site as comfortable as possible. Sgt Foxhall was a great man, quiet and unassuming, not the typical army sergeant, but a man who won the respect of his men. Almost a father figure, although under 30 when I first knew him. We had no raids while we were at Bougie, but many false alerts. Many nights sleep was broken when we had to "Stand to" because of an unidentified plane approaching, only to soon be ordered to "Stand down" when it was proved to be a Beaufighter.
We all took part in sentry duty or "Stag" as it was known to us, at night two hours on and four off. It was not wise to allow a sentry to be on his own because the Arabs were treacherous. At Souk el Khemis a British soldier (not from our regiment) had been murdered for his clothes, and we were not allowed out there alone, and one had to be armed. Restrictions at Bougie were not as tight as this, but it wise to take precautions.
Not all of the Arabs were like this I hasten to add, some were very friendly especially one lad of about 12 who minded cattle for a local farmer. He was quite often around our gunsite and received tit bits from our soldiers, but would not accept meat in case it was pork. He brought his father to us on one occasion, and when we left some of the lads gave him a scarf, a pair of shoes and an army forage cap. It was a strange sight as we were leaving to see this lad dressed in shoes too big for him, (he was usually barefoot), a thick scarf on a warm day and a British army cap, but his face was aglow with pride.
Alongside us at Bougie was a camp of British sailors. Their ship had been sunk just outside the harbour and it's funnels could be seen above the water. We were there for eight weeks from the 17th Feb to 13th April. The next day we travelled to De Djelli, On the 14th we moved to Constantine to a park between Aym Sein and Souk Arras.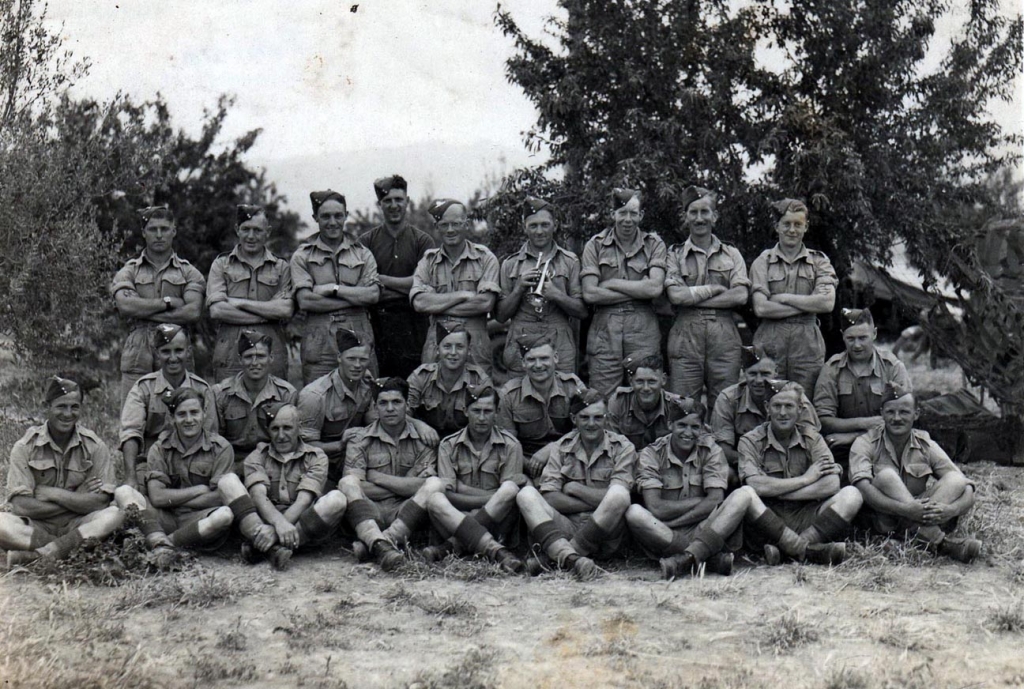 Souk el Khemis 25/4/1943 Church Parade
On 16th April we crossed the frontier from Algeria to Tunisia. On 17th took up new positions guarding the forward airfield at Souk el Khemis on the Tunisian plains. Our first action with the enemy was on that night. From Souk el Khemis bombers were attacking the enemy at Bizerta and probably through Medjiz el Bab to Tunis in the final assault to drive the Germans from North Africa. We had had tents at Bougie, but here we slept under a tarpaulin, but with the warm weather some of us sometimes slept in the open. Yes our blanket was wet with dew but the fresh air was delightful.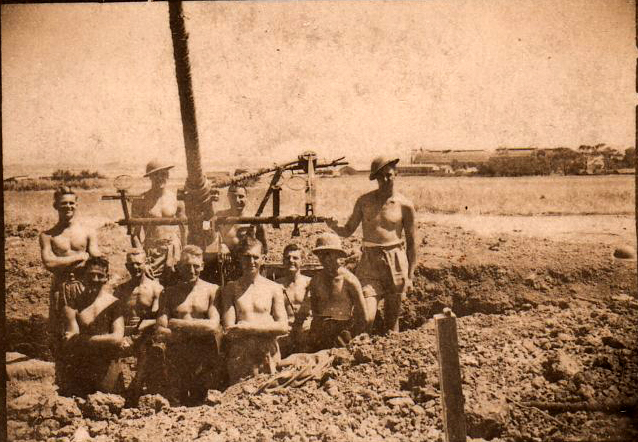 Bizerta 1943
On May 6th we saw the allied planes begin the last offensive, they dropped 1000 tons of bombs between dawn and 10am. We moved on to the Bizerta area on the 9th May 1943 and stayed there until just before Christmas 1943. On the day of moving one of our guns was used for a unconventional purpose. A sniper was operating from the Bizerta clock tower, so the gun was used to blast him out. This kind of role for Bofors was taken up again later in Italy. On May 10th I saw 72 Fortresses escorted by Lightnings fly past on their way to Italy. On the 11th May we saw 170 Fortresses and Liberators, also saw 96 fighters. On May 20th I visited Tunis.
The worst raid as far as the 39th Regt. was concerned was in the early hours of my 22nd birthday, July 6th, when a stick of bombs fell on our Regimental headquarters killing a number of our men. We had in the 39th the Burton twins, devoted brothers, kind, caring London Jews, one of these was amongst the dead. The Regimental HQ was situated just outside the town of Bizerta itself. Our own situation near battery headquarters was also close to Sidi Hamed airport. I should think it had been used by the French as a civilian airport before the war. There were a number of large hangers there. Then the Germans used it and left behind a number of planes which they had put out of service before their retreat. However the Allies managed to restore a Junkers 52 transport plane which was flown sometimes. We were always warned of it's take off and return flight so that we didn't fire on it.
The 39th Regiment was deployed at strategic points around the Bizerta area. The regiment consisted of 3 batteries, each with 3 troops which each had 6 Bofors 40mm anti aircraft guns, which by using armour piercing shells could be used in an anti tank role. Our detachment D1, was for the first months of our almost 7 months stay at Bizerta, (the longest I was at any one place in the army), posted at a strategic point to guard Battery headquarters from air attack. There were a number of raids most of them during the hours of darkness but not all.
Bizerta together with Tripoli in Libya a few hundred miles eastward was the place where the British and American forces were gathering ready to invade Sicily and Italy. Hundreds of craft of various sorts and sizes were assembled in "La Goulle" This was a large inlet from the Mediterranean, entered by narrow straits at Bizerta, where there was a harbour, and extended to Ferryville, another harbour town, a distance some 8 miles the distance across in the other direction was probably about the same, making an area therefore of an estimated 64 square miles covered by this huge flotilla of Corvettes, landing craft of all types and sizes and guarded against Stuka dive bombers by a mass of barrage balloons, as well as many regiments of light and heavy Ack-Ack, a battery of rocket Ack-Ack and the numerous weapons on board the vessels themselves. It was the greatest assembly of anti-aircraft fire power the world had ever seen up until that time. D1 was a small cog in a huge wheel.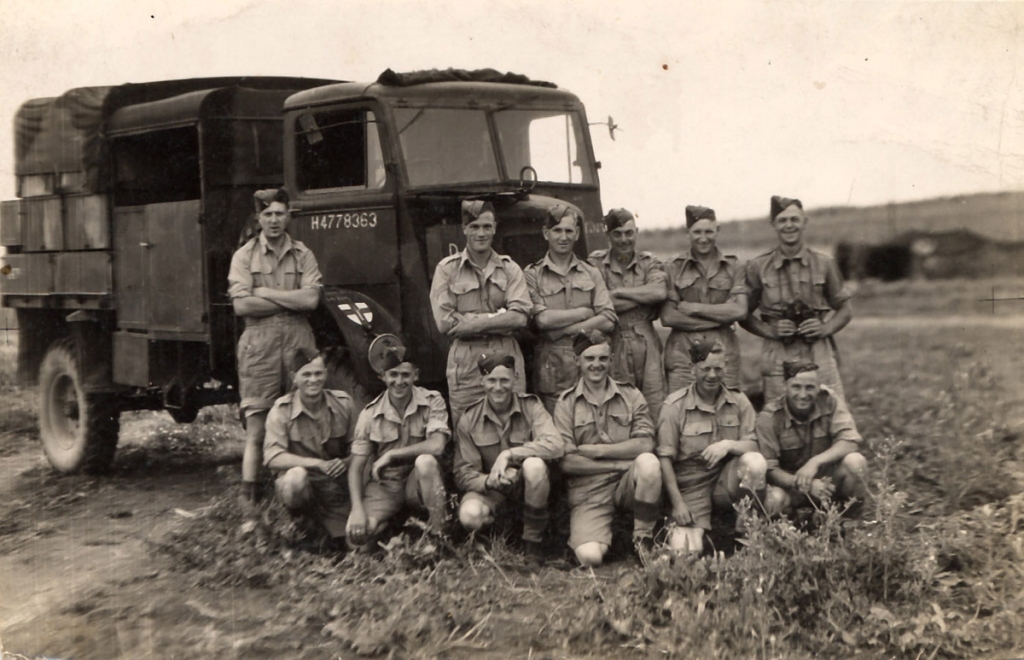 Tunisia 1943
At the time of the collapse of the German forces in North Africa many thousands were taken prisoner. Most of them were interned in prison camps around the Bizerta area, awaiting shipment to USA and Great Britain. This caused a logistical problem for the allies as with such an increase of extra mouths to feed, plus U boat activity in the Atlantic still taking toll of merchant shipping we were soon short of food. For a few weeks we were truly on hard rations, i.e. army hard biscuits and bully beef, then when bread became available it was not fresh and in the extreme heat of a Tunisian summer, while it was white on the outside it was a mass of blue mould in the middle. Some of us risked buying rye bread from the market at Ferryville. A foolish idea as we ended up with dysentery. In fact for a few weeks there was quite an epidemic amongst the troops in our area.
On another occasion we had bread made from flour with weavils in it. We complained about this, but were told they were quite harmless, so as we had nothing else we ate our bread without looking too hardly at it. I suppose a little extra protein did us no harm.
At about the same time a couple of us on D1 caught impetigo. I looked a mess, unable to shave, and my face smothered with Gentian Violet, the remedy used in those days. It cleared up after a while. Soon after the air raid mentioned earlier D1 was ordered to move along with some other guns of the troop to an island in "La Goule" On the Sidi Hahmed airport side of the lake only shallow water separated the island from the mainland, and the engineers soon built a causeway for our trucks and guns to go over. Our troop headquarters came too, although I believe a couple of guns stayed on the airfield. This move brought us of course much nearer to the assembling invasion craft. Our role of covering BHQ was handed to someone else.
On arrival on the island it was wonderful to be free of pestering flies – for about a day, by which time they had found us. Our tents were black with them up in the ridges at night. Of course we always slept under mosquito nets to guard against malaria, also applied insect repellent to bare skin at night, and took Meparcrine tablets, a form of synthetic quinine. In spite of these precautions a few of the men caught the disease.
The army were not the only inhabitants of our island. There were already a few Arabs there living in mud huts, scratching a living off of the land, with the help of a few cattle and a bit of fishing. After an evening air raid one night, in which a number of their cattle were killed about perhaps 400 yards from our gun, these Arabs with their remaining cattle disappeared, and we didn't see them again until just before we left in mid December by which time German air raids over Bizerta had ceased. I remember one raid in particular when a fairly low flying plane was held in the search lights coming right towards us. Our shells must have exploded very near to it without a direct hit. We then had to turn the gun through 180 degrees to get it into our sights as it was receding. But when our No4 pressed the firing pedal the gun jammed. I have sometimes wondered if some Christian German mother or wife was praying for one of those crew members that night.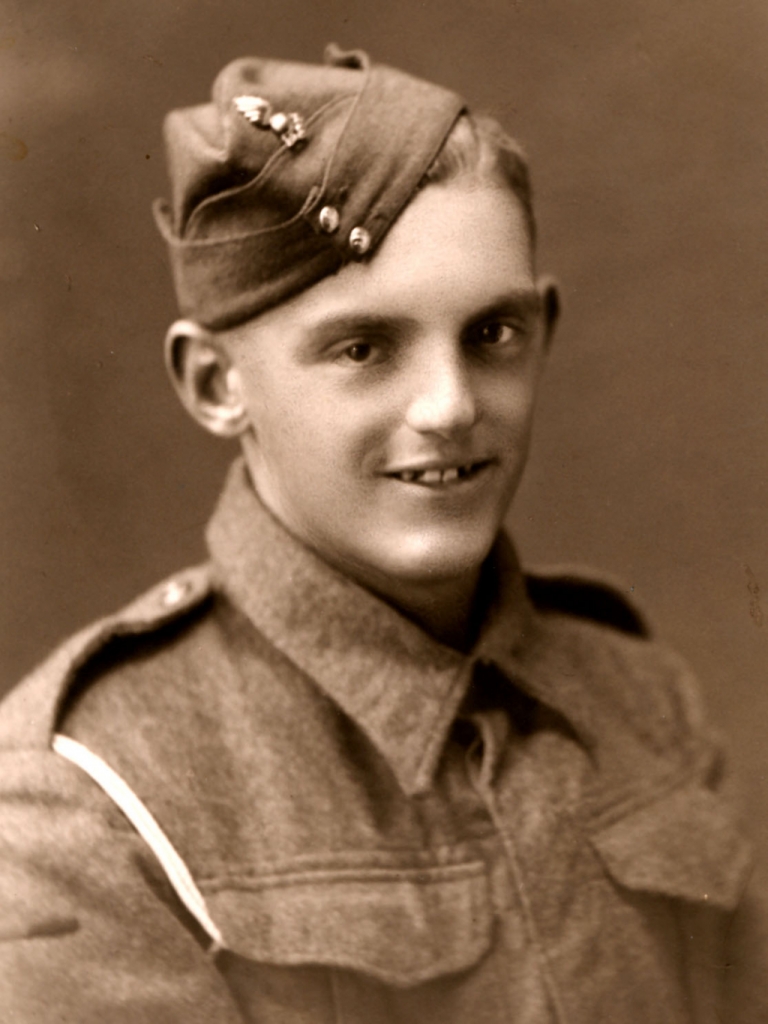 Frank in 1943
It was during that summer of 1943 that Mussolini was overthrown as dictator of Italy, and Marshall Badroglio became their leader, and sought an armistice. The Italian negotiators landed in "our" lake and our Colonel McKay escorted them to the allied Commander. This however did little to shorten the war as the Germans who were the strength of the Axis powers took over the whole of Italy, and it was they our troops had to face as they fought little by little up the Italian peninsula.
As well as air raids the Germans also dropped a few parachutists who blew up a few planes on the air field. In one air raid some gunners who had come right up through with the 8th Army were blown up when a bomb hit their ammunition truck.
It was not all air raids and bad bread in North Africa. I enjoyed a few days out in Tunis, and had a lovely few days leave at St Germain a beautiful seaside place south of Tunis. I also visited the ruins of ancient Carthage. Our regiment organised an athletics event for those interested, and on occasions during the summer we had outdoor cinema or E.N.S.A. shows to help morale.
During the second half of December the 39th assembled ready to sail to Italy. We sailed on Christmas eve, soon passing the island of Pantalaria. We sailed past Malta during the night and on Christmas day we were basking in sunshine on the deck of the transport vessel which was by now off the Island of Sicily. We could see Mt Etna in the distance and on Boxing day arrived at Taranto in the extreme south of Italy. I saw the funnels of the Italian fleet were sticking up out of the water! After landing at Taranto we moved a few miles inland and parked by the roadside. It was a bitterly cold night, and some of us lay side by side on a tarpaulin sheet, pulling half of it over us to keep out the cold wind. Next day we moved on northward to a position between Foggia and San Servero, right beside the main road. It snowed the next day. Also I developed a terrible toothache, and our regiment had not yet located an Army dentist. They did so after a day or so in Foggia by which time I had developed an abscess. There was no gas available to lay me off, so in spite of the abscess I was given an injection and out it came. It was soon a great relief, but for years after if I had a cold coming the first sign was "toothache" from that tooth.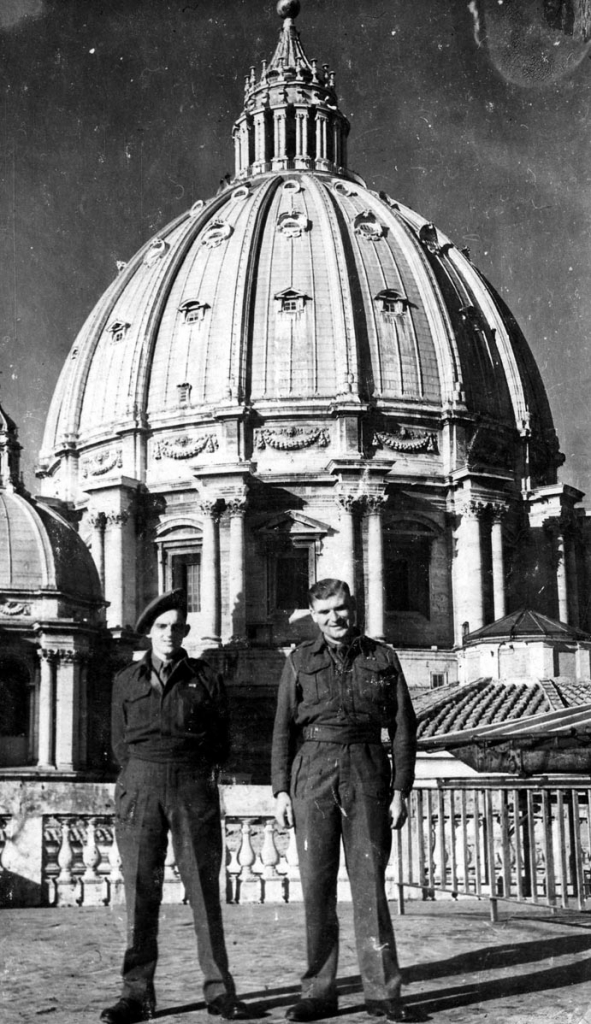 Frank is pictured here (on the left of the photo) outside St Peters in Rome on Boxing Day 1944
After a short while we moved to one of the airfields on the Foggian plains as anti aircraft defence of a large number of bombers, some attacking the German front line in Italy, especially at Cassino where the allied advance was being halted, others at the Anzio bridgehead established south of Rome, while some did attacks on Germany, flying on to a base in Britain, bombing up again and repeating the process on the journey back to Foggia. A death delivering shuttle service. Some returned badly shot up. Some did not return at all. We stayed there until May 1944 when we were moved from the 8th Army field of operations and attached to the American 5th Army. We had a few days camping by a riverside en route to our new gun site which was very pleasant, and then on to guard a forward area fighter airfield who were engaged in raids on German positions at Cassino.
While here we could hear a great artillery barrage going on at Cassino, and at last the monastery which dominated the approach road through the town, the only road through the hills to Rome, fell and the allies could advance, relieve the beleaguered bridgehead at Anzio and go on to Rome. Meanwhile we had moved back south a few miles to Capua, an ancient and historic town on the banks of the river Valturno, where a hard battle had been fought a few months earlier. A number of British soldiers were buried here near the riverside ready to be moved to a Military Cemetery at a later date. While we were at Capua we were very quiet and I had the privilege of visiting Naples, Pompei, Herculanium, and of seeing Vesuvius.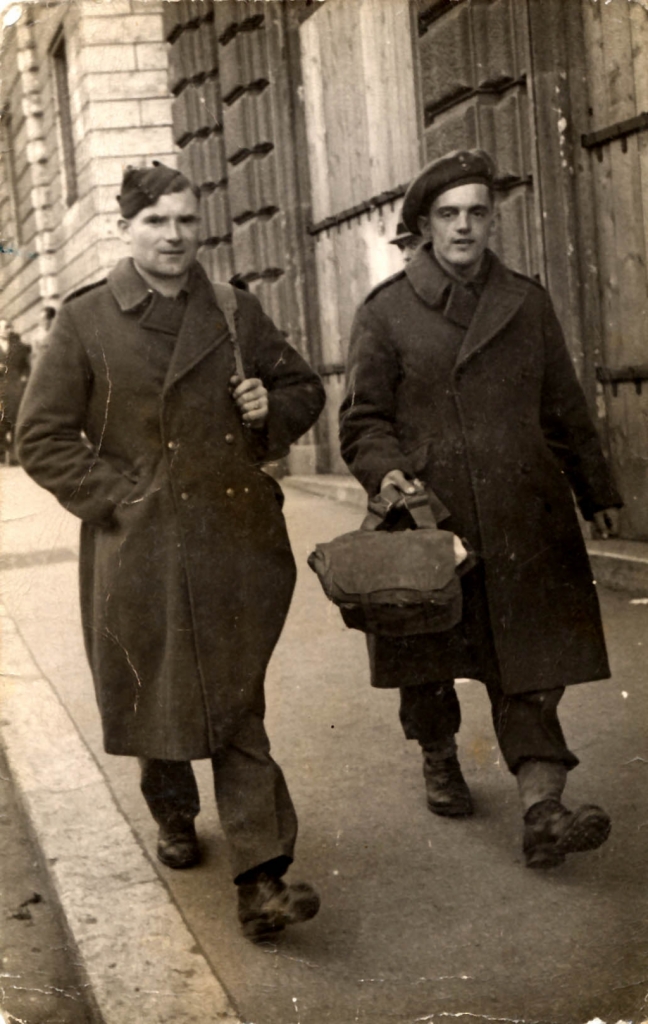 Just arrived in Rome 1944
I visited Rome in December 1944. I saw many of the tourist attractions, and climbed to the little ball at the top of St Peters by way of the stairs inside of the dome, there were marvellous views over Rome to the Alban Hills. We then travelled up to just south of Pisa without guns. We were now front line infantry. Our first front line position as infantry was in Pisa, south of the River Arno. The Germans held the area north of the river. It was quiet except for sporadic mortar attacks, our main job was to evacuate the few remaining civilians for their own safety as a battle to cross the river was expected. However this never came. We then moved west of Pisa to take up positions near the river banks. We were protected by a bit of a road embankment between us and the river. Again the main problem was mortar fire as this can be directed to fall down on you whereas artillery or rifle fire is more frontal and not easy through trees, although it did happen at times.
I suppose our regiment suffered most from mines. One of my mates was a mine sweeper (not the naval kind) I guess he got in too big a hurry and stepped on one. Both of his legs were blown off and he only lived a few minutes after pleading for someone to finish him off. My most frightening time was when taking over a position from the Americans. We were lying on a railway embankment while the Yanks passed through our line. It was in darkness, but with rattling mess tins etc hanging from their belts they made so much noise that it bought down the heaviest hail of mortar bombs I ever experienced. I had a small trenching tool in my pack so I dug into the embankment which was sandy soil, and put my head into the slit trench. I thought I could get along better without legs than without a head! Next morning a big crater was where a hedge had been the night before, fortunately none of us had been injured that night.
There was the "Farm incident" with the pigs. The men, including some of my friends were told not to venture into farm to kill pigs but were fed up with army rations so disobeyed orders. At night they crept into a deserted farm but were heard and killed by Germans using mortar bombs. At that time we had double English + USA rations! There were many orchards of Apples and Pears. One of my friends right by me was shot dead. We could not understand how Jerry knew our movements and mortared us so accurately. After we crossed the Arno we found steps up the far side of the trees to "Crows Nest" observation posts. We crossed the River Arno on the 3rd Sept 1944, and the Serchio River one week later. We advanced slowly after the retreating Germans in the countryside around Viareggio.
An Inoculation in my arm went septic, I was off for a total of 8 weeks. I was In hospital in Leghorn and Perugia. Frank stayed at a "Rest Camp" at Rodi Garganico on the Adriatic Coast. There is a photo of the soldiers (including Frank) in the "Wartime Postcards" page. I rejoined my unit at Vitiglia in mid December 1944. I had immediate leave to Rome for 10 Days. The 39th A/A Regiment disbanded at Montecatini Alta in January 1945.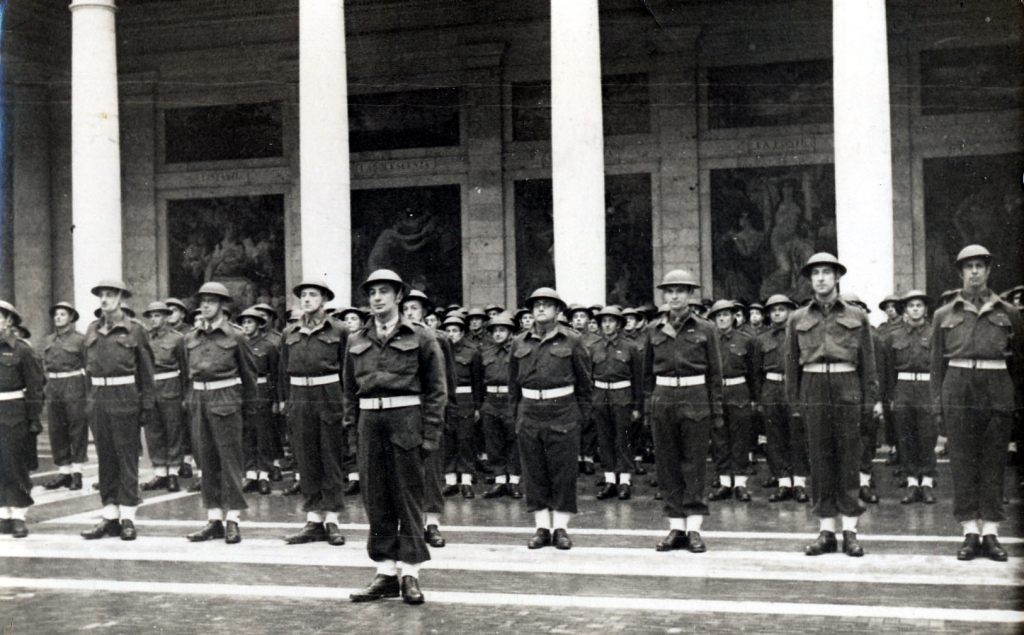 Disbanding at Montecatini Alta
I disarmed drunken USA soldier who had a loaded rifle. We then went to Naples to be officially disbanded. I have a vivid memory of the children being so hungry that they regularly stole food from the Army waste bins. I then retrained as infantry finishing the day war ended! I remember hearing of the end of the war from Mr Churchill on the radio in the NAAFI. I was then transferred to the 1st Bat. Kings Royal Rifle Corps. We were stationed at Fano Barracks in Italy for a time.
We then moved to a Camp at Udine in north Italy, then on to Klagenfurt in Austria in August 1945. Then guarding a railway bridge at Unstmarkt in Austria. Next to Naumart in Austria guarding a dynamite factory. At the end of September 1945 we moved back to Italy. We were now guarding prisoners, sometimes POW's sometimes War Criminals.
Home leave for the only time! nearly five wonderful weeks. I got married on the 25th October 1945 whilst on leave. Then back to Bologna Italy.
I left Italy for England at beginning of April 1946. I was finally de-mobbed from Winchester on the 12th April 1946. After a few days at Winchester Barracks waiting for papers, it was home at last.
Dad's medals
1939 – 45 Medal
Presented to all who served in the forces during the second world war.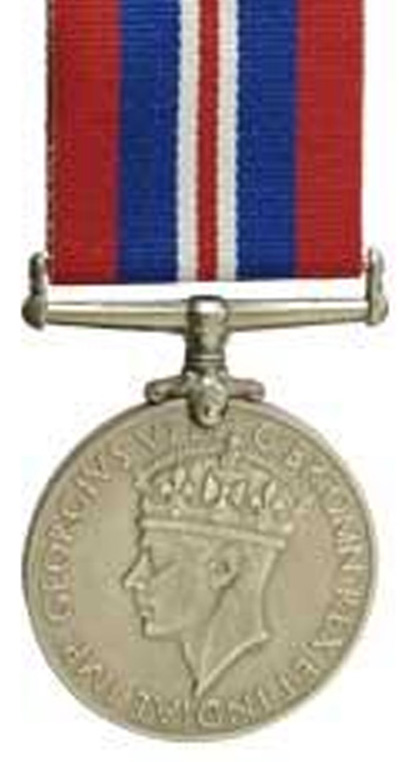 1939 – 45 Star
To all who served overseas during the war. Dark blue represents Royal Navy Red represents Army Light blue represents R.A.F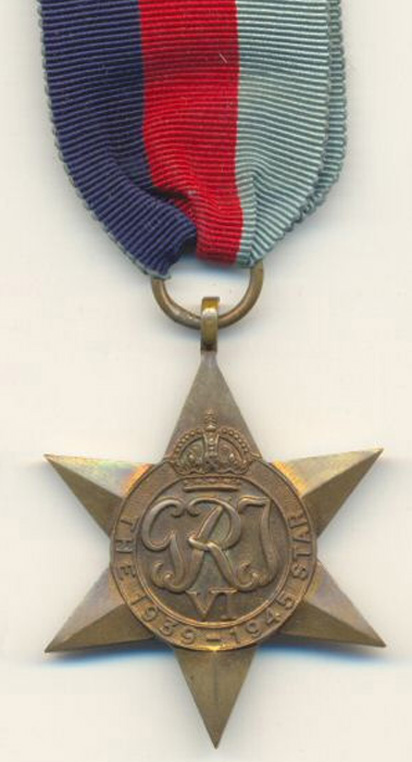 Africa Star
To those who served in the North African campaign Stripes representing forces as above. Yellow representing background of the desert. 1st Army clasp on ribbon of Africa star denotes serving in the 1st Army, western part of campaign i.e. Morocco, Algeria or Tunisia. Those in 8th Army had 8th Army clasp and served Eastern sector i.e. Egypt, Libya and joined with 1st Army in Tunisia in final battle of the conflict, which virtually ended on 9th May 1944.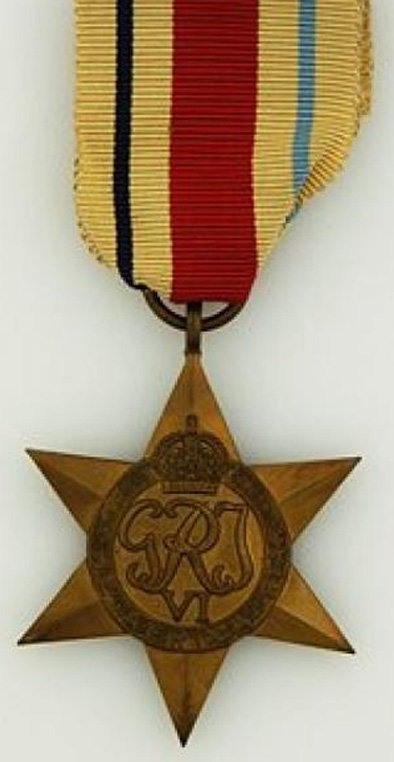 Italy Star
To those who served in Sicily or Italy 1944 onwards. Red, green and white are colours of the Italian flag.