The Thomas Tree
This Thomas line only follows the direct male descendants. Much of this information has been obtained from "unverified" sources of "good intention" but cannot be relied upon as completely accurate. Even some of the information gleaned from peoples "Ancestry" information we have researched and found to be questionable!
Descendants of children of Frank will be listed in seperate trees as there is not enough room on one page. Information other than names and year of birth on these trees, although public domain information, will only be published if the person is in agreement. Please excuse the lack of continunity in the text colour!
Mary Swain had 12 children. Philadelphia had 11 children. Mary Roots had 10 children. Hannah had 8 children. Mercy had 3 children. Kate had 1 child. Nellie had 6 children.
Richard Thomas Mary Beney
1676 1680
Married 1701
John Thomas Mary Swain
1705 1730
Married at Battle 29/9/1749
Richard Thomas Philadelphia Philcox
1760 – 1824 1757 – 1846
Married 29/7/1781
William Thomas Mary Roots
1785 1784
Henry Thomas Hannah Page
1816 – 1895 1831
Trayton Thomas Mercy Ashdown
1858 – 1897 1865 – 1944
Archibald Thomas Kate Pratt
1891 – 1969 1891 – 1925
Frank Thomas Nellie Cottingham
1921 – 2011 1923
Married 25/10/1945
William Thomas (born 1785) is thought to have died in 1865, he was married in 1809.. Although Hannah Page is said to have had 8 children, on studying the census results it is possible that two of the children may be Hannah's siblings as they have the surname Page. Hannah would also have only been 14 when the first of the "Page" children were born, although this is not impossible it is improbable in my opinion.
---
Tree of Frank and Nellie's children.

Michael Paul Thomas b 1955, single. Marion Frances b 2/11/1957, d 21/11/1957. Details of other individuals are contained below in their Family Trees.
---
The Tree below shows the Thomas / McCallion line from Frank's daughter Helen Ruth.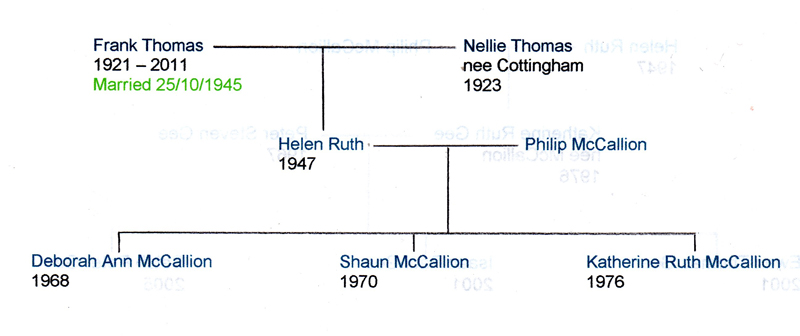 Trees following Helen's children are below.
---