The photo below is of Lucy Cottingham nee Brinkhurst born 1804/5
Lucy was Nellie's Great Grandmother
Nellie's children's (Barbara Timms') Great Great Grandmother
Nellie's Grand children's (Mark Timms') Great Great Great Grandmother
Nellie's Great Grand children's (Alex Timms') Great Great Great Great Grandmother!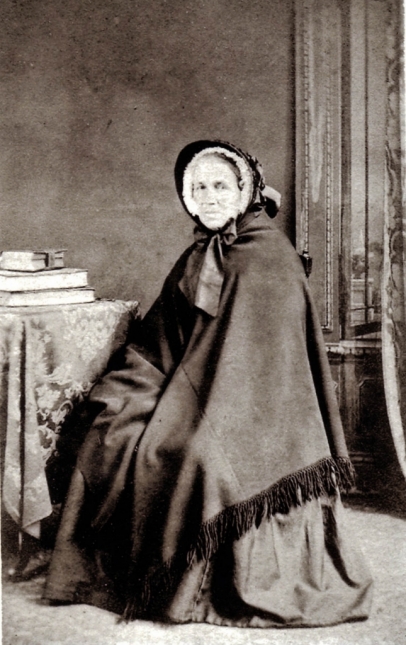 Please be aware that sometimes the registration "town" may be given in the birth/death certificate & Census entry, near to, but not necessarily the exact village where the person lived.
The "Family Tree" below is thought to be correct, but, as anyone knows who has tried to properly verify BMD's its not always straight forward to say the least! ONLY direct lines have been followed as when each generation has large families numbers become huge and Aunts and Uncles are not usually direct ancestors!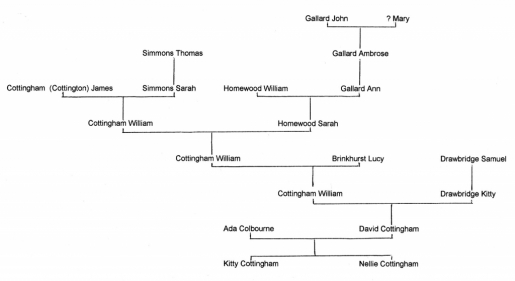 William Homewood died in 1794. Then we come to William Cottingham, which one I hear you say, well, the first one on this tree was born in 1774 and died in 1844, the middle one was born in 1800/1 and died in 1882 (buried 29/8/1882). The last one born 10/7/1848 and died 20/1/1931. Samuel Drawbridge born 1811, Kitty Drawbridge born 1847 died 1930.
"Cottingham" line
Cottingham / Brinkhurst
Nellie's Great Grandfather was a William Cottingham listed as an agricultural labourer in the 1841 census in Mayfield Sussex. William was born in 1801 and died in 1882 buried on 29/8/1882. He married Lucy Brinkhurst (Nellie's Great Grandmother) she died in 1895 and was buried on 15/8/1895.
William born 10/7/1848 ?
Cottingham / Drawbridge
Nellie's Grandparents were William Cottingham and Kitty Drawbridge. William Cottingham was born on the 10th of July 1848 at Mayfield in Sussex. William died on the 20th January 1931 at Mayfield. Kitty was born on 12th March 1847 at Northiam Sussex. She died on the 15th April 1930. Listed in the 1881 census as a "Farmer of 17 acres". Kitty Drawbridge's mother was called Mary Feldwick. Kitty had three sisters and one brother, Kitty lived at "Hundred House" Framfield from the age of 8 and went to Framfield School and Framfield Church Sunday School. William Cottingham had three brothers and four sisters. William and Kitty had 9 children.
William Henry born 8/1/1869
Lucy born 3/1/1872 Died 13/2/1947
George born 26/1/1875
David born 26/11/1877 Died 22/6/1941
Frederick born 11/12/1879 Died April 1951
Mary born 24/6/1883 Died 24/11/1958
Charles born 2/2/1885 Died 8/6/1980
Thomas born 14/1/1888
Annie Kate born 27/2/1891 Died 16/6/1992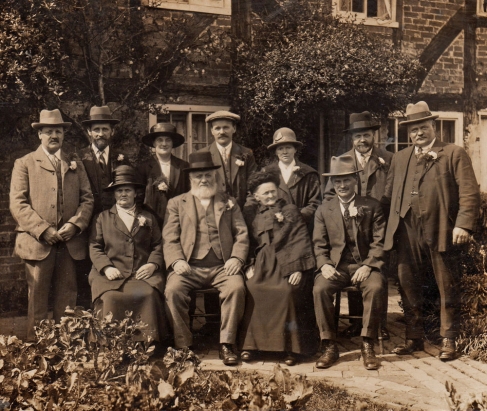 William and Kitty with their nine children.
This picture was taken on 16/4/1927 at the wedding of Lil (Nellies half sister) & Will Jefferys.
David (Nellie's Dad) is standing at left of photo in light coloured suit. Next is Charlie, then Annie. Tom is wearing a flat cap(centre). Mary is next, then Fred with George on the end. Sitting in the front row left is Lucy then William and Kitty with William on the right. Thanks to Mary Sweetman for the information.
Cottingham / Colbourne
Nellie's father David Cottingham was born on the 26th November 1878 and died on 22nd June 1941. He is listed in the 1881 census aged 3 as living in East Hoathly but was living in Halland (see first paragraph above). In the 1891 census he listed as "a gardener aged 13" He married Ada Colbourne Nellie's mother. David was married twice, he had four children by his first wife Annie Moulds. They were married at Little Horsted on 5th August 1899. These were Nellie's half brothers and sisters. They were Floence Annie born August 1901 (buried 11/11/1907); Lil born 25/10/1903 (died 23/4/1994); William David born 18/10/1905 (buried 7/4/1928) and Jim born 27/10/1907 (died 20/11/2007). David and Ada had two children.
Kitty born 6/6/1921 Died 7/7/2005
Nellie born 25/12/1923 Died 2/1/2013
"Colbourne" line
Colbourne / ?
George Colbourne was Nellie's Great Grandfather, he was born at Chalton Hampshire in 1809.
David born 24/12/1845
No other siblings known
Colbourne / Edwards
David Colbourne, Nellie's Grandfather was born on the 24th December 1845 at Finchdean in Hampshire. David died on 5th March 1925. He is listed in the census as a Blacksmith living at Woodhatch Reigate Surrey. He married Ruth Edwards who was born at Whittly Surrey on the 13th January 1853, she died on the 19th September 1910. David and Ruth had six children. They were married at Idsworth Hampshire 26.1.1878
George born 26/6/1879 Died 17/7/1933 (1935?)
Ruth born 17/8/1880 Ruth Morgan died 4/12/1935
Ada born 10/12/1881 Ada Cottingham died 26/9/1961
Ellen (Nellie) born 16/3/1883 Ellen Orchard died 1/1/1909
Mary (Polly) born 13/6/1885 Mary Pelling died 11/7/1946
Elizabeth (Lizzie) born 13/6/1890 Elizabeth Penfold died 19/11/1969
Marriages
George Colbourne married Edith Clarke at Billingshurst 1.6.1901
Ruth Colbourne married Harry Morgan at St Johns Redhill 2.11.1901
Ellen Colbourne married Arthur William Orchard at Lidlow Reigate 8.1.1908
Elizabeth Colbourne married Frank Penfold in South Kensington Registry Office London 22.7.1914
Ada Colbourne married David Cottingham at East Hoathly Sussex 1.9.1920
Mary Colbourne married Benjamin Cottingham at Hope Chapel Barnet Wood Blackboys Sussex 22.9.1928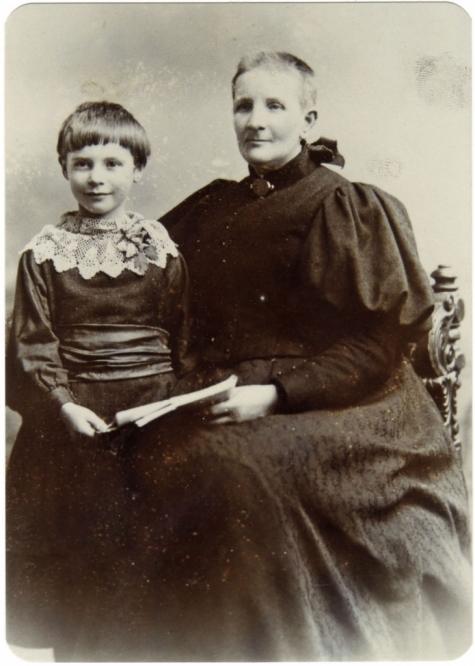 Grandma Colbourne
The little girl is Nellie's Aunt Lizzie Nellie's Mum's youngest sister.
Colbourne / Cottingham
Ada Colbourne was born on the 10th December 1881 and died in Uckfield on the 26th of September 1961. She married David Cottingham on the 1st of September 1920. They had two children.
Kitty born 6/6/1921
Nellie born 25/12/1923
The Frank Thomas / Nellie Cottingham line of their children etc is shown on the "Family Tree" page on this website.
The page "Frank Thomas' Family Tree" can be viewed via this link.
"Photos of Nellie and her Family" can be seen using this link. This page contains some photos of her parents also.