Archibald Thomas
(Frank's father)
and other photos of more distant relatives.
The photo below is of Archibald's wedding to Kate Pratt. I have put this on a separate page as the list of names of those pictured is too long to fit on the "description" section of a gallery page caption. Frank wrote the list, additions and corrections have been made by Rosie Ansell.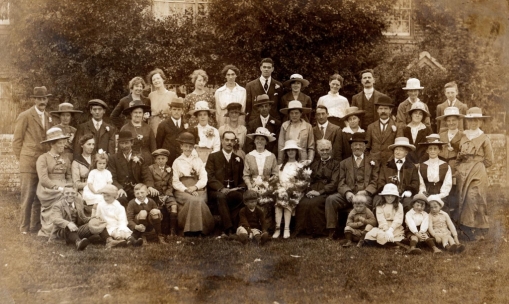 Back row from Left to Right. 1st Lavina Crittall, 2nd Violet Care, 3rd from left Edie Wickens, 4th Minnie Hopkins, 5th Pip Curtiss, 6th Blanche Curtiss, 7th Aunty Mercy Wickens, 8th Uncle George Pratt, 9th Aunty Ethel Pratt, 10th One of Uncle Jessies sons Dick Pratt.
Second row, Left to Right 1st Uncle Albert Starnes, 2nd Aunty Jane (Jenny) Pratt, 3rd Uncle Joe Pratt, 4th Aunty Grace Ashdown (later my stepmother), 5th Uncle Tom Burfoot, 6th Aunty Ellen (Nell) Burfoot, 7th Aunty Edie Thomas, 8th Uncle Joe Thomas, 9th Aunty Grace (Pratt) Berry, 10th Uncle Alec Berry, 11th Aunty Mary (Polly) Pratt, 12th Uncle Peter Pratt, 13th Aunty Edith (Edie) Pratt, 14th Aunty Mabel Ansell, 15th Kate Hendley.
Front row on seat Left to Right, 1st Aunty Annie Starnes, 2nd Aunt Kate (Kitty) Pratt (nee Brinkhurst) & Chrissie, 3rd Grandad Will Pelling, 4th Uncle Willie Pelling, 5th Grandma Pelling, 6th Archibald Thomas (Dad), 7th Kate Thomas (Pratt) (Mum), 8th Joyce Pratt, 9th Gramdma Ann Pratt, 10th Grandad Richard Pratt, 11th Emily Crittall, 12th Ellen Baker.
Children on ground Left to Right, 1st Stanley Pratt, 2nd Reg Pratt, 3rd Leslie Pratt, 4th George Ansell , 5th Bert Ansell (Rosie's Dad), 6th Elsie Pratt, 7th Wilfred Pratt, 8th Thomas Pratt.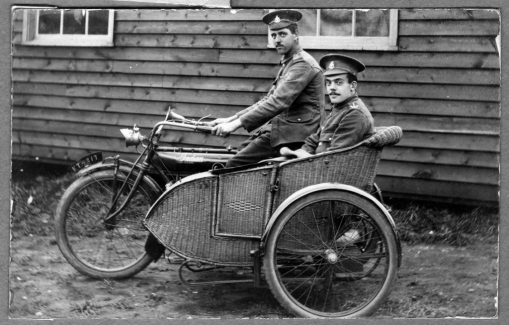 Archibald Thomas as a passenger in a motorcycle sidecar 1916. Archibald returned to England from France in 1916 suffering from Rheumatic Fever. He was transferred to the Pioneer Corps after recovering in 1916 and continued in the Army but worked on a Farm near Bedford.