I was a weak and sickly child and I suppose from the age of 5 – 7 spent more time at home than at school. I had all of the normal childish complaints but some with complications, with measles not only did I have trouble with my eyes but also had congestion of the lungs. During one illness Dr Williams from Uckfield said that my heart was "out of place". He made marks on my chest with his fountain pen on each visit until pronounced better, and I was ordered to rest. I wonder what was really wrong?
I often had terrible chesty colds, I guess it was really bronchitis. Grandmother used to apply castor oil or olive oil poultices. (I can't remember which). The oil was poured on to a dinner plate and a piece of flannel the size of my chest was laid in it. This was heated in the oven and then applied to my chest at bedtime, as hot as I could bear it and covered with a dry cloth to prevent the oil from spoiling my clothes. At the same time I would drink a potion of "Herb tea". This was made from wild mint and elder flowers which had been collected and dried in the summer and hung in muslin bags in the kitchen chimney corner ready for when needed. The mint and the elder flower was infused with boiling water and sweetened with either honey or syrup. Truly horrible to the taste, but effective next morning in loosening the phlegm. Be thankful oh present generation for antibiotics!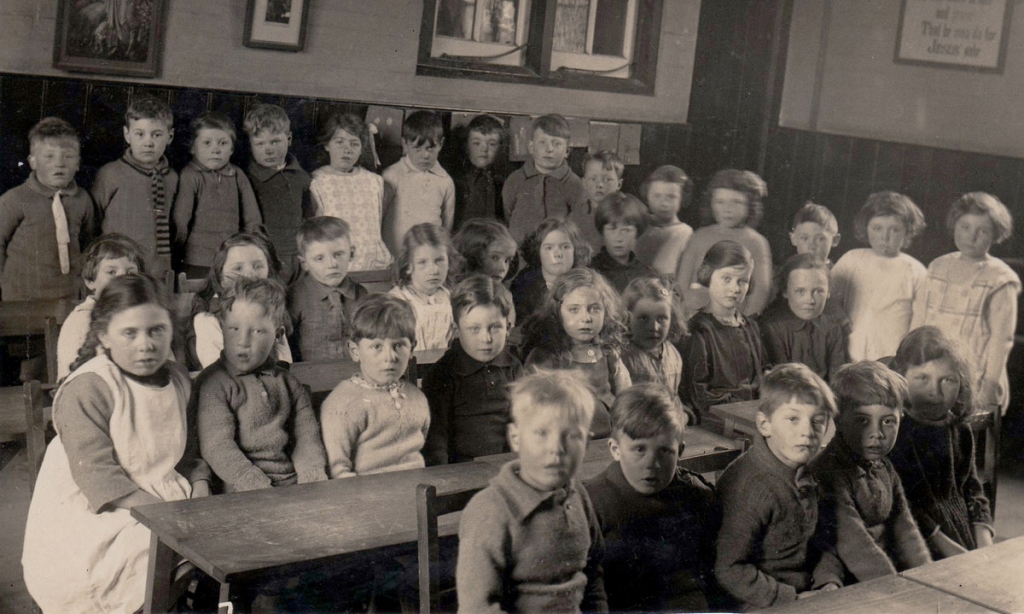 1926
Frank is below left of the girl in the back row with the white smock on.
Kitty Cottingham (Frank's future sister-in-law) is the girl in a light grey top fourth in from
the right below the dark panel coming down from the ceiling in the corner of the room.
Although I missed a great deal of schooling I don't think I lagged behind the other children too badly as Uncle Will Pelling as well as Grandma and Grandad and also Dad on his visits to see me all taught me to read and do the basic sums as taught young children in those days. When I did go to school, I looked on the teachers as people to be feared. Miss Colbrook the infants school teacher at East Hoathly I think sincerely believed that if she shouted, stamped, pinched and threatened pupils enough that they would make the grade. On the other hand Mrs Jones who taught Standards 1 & 2 (7 – 9 yrs) believed in ridicule and sarcasm combined with threat of the cane. They were miserable days.
Still I guess I didn't get punished for what I should have been punished for, when I went into Standard 1 I discovered a new vocabulary. The way to be a real boy was to swear, and also I wanted to be a real boy. What lies the devil tells us. Also he teaches and equips us to be deceitful. Although I used foul language when with the other boys I never did in front of those who loved and cared for me. They thought I was good, but God looks at the heart. Well just to jump ahead with this sordid subject I continued to swear for some years, but I should think around the age of 11 or 12 I became very convicted about this under Mr Field's ministry, and I feared I would go to hell for my sins. I broke off swearing, never to take up the habit again, I believe God gave me the grace to do this, no resolve of mine would have given me the strength. I was a long way from knowing Jesus Christ as my Saviour but I believe He then began the good work, and although other forms of sin would lure my evil heart, yet He who began would one day complete.
At the age of 9 I went up into Standard 3 where instead of block letters we were taught real handwriting by a wonderful teacher Miss Gilham. She wrote in a form much like this is written in, and I endeavoured to follow her pattern in this. She was a kind and gentle lady, but alas soon left East Hoathly school, and I heard that she died a few years after. I believe she was a
Christian.
Miss Gilham was followed by Miss Peabody. I and another boy thought her name peculiar, and as the bearer of a funny name it would also be fun to play her up. This we managed to do often. If we could annoy her and also get a laugh from the class it made our day. I was truly naughty. I don't remember how long this lasted, but at some point I suddenly resolved to change my behaviour, and I found "Old Pebs" very helpful, and a good friend. I began to get on well at school and to enjoy most of my lessons, especially English and Arithmetic. Higher forms of maths were unknown to us at East Hoathly at that time. Because of my now good behaviour and my teachers attitude towards me I sometimes became known as "teachers pet". Indeed Miss P. sometimes sent me a postcard when on her holidays, as she did to all of the other scholars who worked hard.
At 11 years old I went up into Standard 5 under the tuition of Miss Hazel the headmistress who coped with the children up to leaving age of 14, in Standard 5, 6, & 7. Children could then leave at the school holiday after their 14th birthday. I got along quite well with Miss Hazel. She was probably not the best of teachers, especially finding it difficult to discipline the older boys, but by now I had no problems in this respect. I loved reading and hated sport, so not only spent most play and lunch time pouring over books, but also was often allowed to in games periods also. I am thankful for these opportunities as I believe that so much reading helped to give me a reasonable command of English. By this time my health was improving, and I was not loosing nearly so much time from school as in the early days.
From York House to East Hoathly school was a good 2 miles, which had to be walked. It meant leaving home just after 8 o'clock in the morning and getting home at nearly 5 at night. The exception was that if it was very wet we could catch the bus from Halland to East Hoathly, but this still meant quite a walk at each end of the journey. However for my 13th birthday Dad and my Stepmother gave me a bicycle so now I had my own transport. I have to go back several years to explain about my stepmother. Dad married his cousin Grace Ashdown. I am not sure of the year, it may have been 1927, the date was November 5th. She was a wonderful cook, and earlier in her life had been cook at the famous Roedean School for Girls at Brighton, but at some point came to work at Barham where Dad worked, and lived in the Lodge Gate House with her aged and ailing parents. Her father having worked on the estate and she became cook to Mr and Mrs Oakshott. She never had children of her own and perhaps didn't understand them awfully well. She was an industrious housewife and looked after the home and cooking well.
I was at some point meant to return to Greywood, but never did. I think there was some mutual understanding that my happiness was more assured with Grandma. Still since having my own family I feel sad for my father who was thus denied many of the joys a father has in his children being around him. Somehow I didn't seem to please Mum a lot, especially in the long summer holidays I used to spend a week at Greywood, often accompanied by Mum's nephews Jack and Bill Ashdown. Usually I had my hands in my pockets, tore a hole in my trousers or did something to merit a stern reproof.
I especially remember an occasion when we went on an errand for Mum to East Hoathly, calling in the village on Mrs Heasman who was Jack and Bills Aunt. We did some little things for her too, for which she gave us a penny each. Well we were grateful, although perhaps in retrospect she could ill afford this in the early days of the 30's. Anyway we each decided what we would do with our wealth. Jack kept his, Bill spent a halfpenny, while the big spender Frank squandered the lot! (this at Mr Cornwell's sweet shop in the village.) Well, however pleased we were with our mornings work I'm afraid Mum was very displeased with us for accepting the money. When a few days later Jack and Bills' mother came to take them home she was given a full account. Jack hadn't done so badly because he had saved his! (He later became a Building Society Manager, it seems saving money was inbred in his case), Bill got a small rocket for spending 1/2d, and then the accusing finger pointing in my direction, and the voice of scorn "And as for him, he spent all of his!!" Well the sanctuary of York House and Grandad & Grandma Pelling was only a few days away.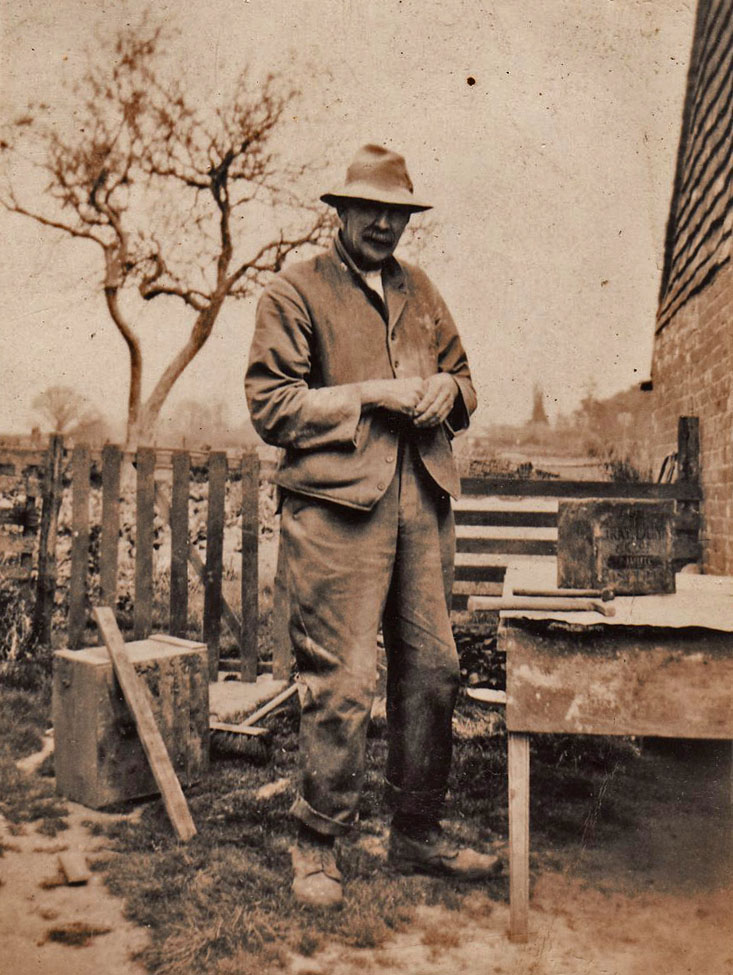 Grandad Pelling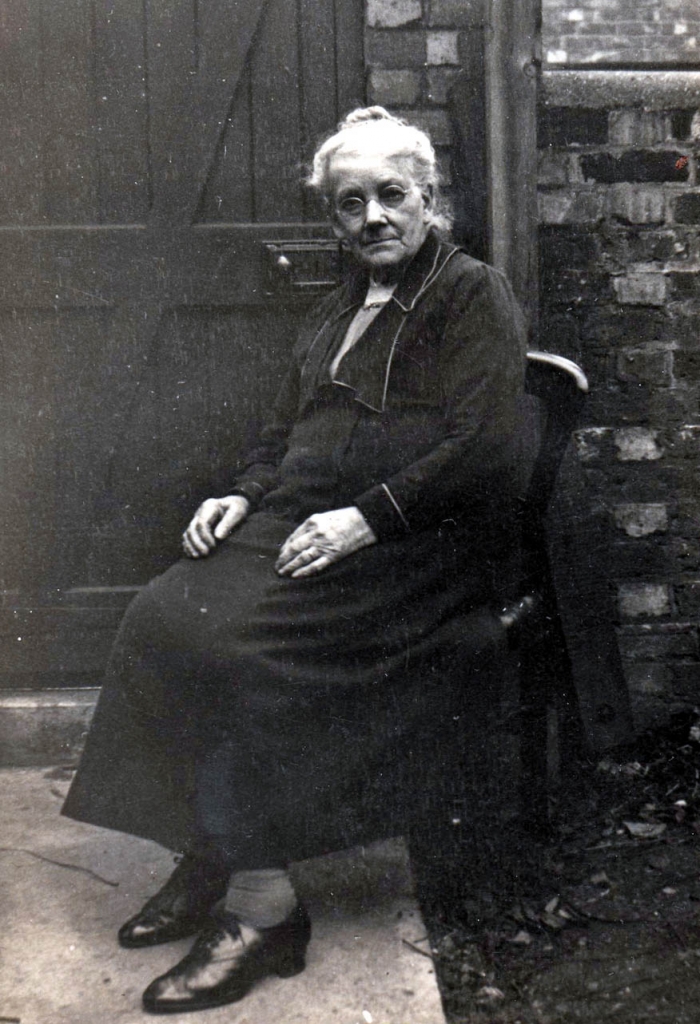 Grandma Pelling
In addition to a week at Greywood each summer I also had a week or 10 days at Hove during the summer holidays, staying with one of Grandmas sisters, either Aunt Mary with her husband Uncle Joe Gurr and their daughters Lottie and Marjorie, both some years older than me. They lived at 11 Brooker Street or else 70 Church Road, near the town hall, with Auntie Ruth Ashdown, a spinster, but a very lovable character. I have heard that she was let down very badly when young when she learned that the man she was going out with was already married.
70 Church Road was a part of Combridges Library. I believe that there has been a lending library at that address as well as a second hand bookshop and just along the road at No 56 new books and stationary. These businesses were owned by a Mr Cook, a very kind man and a Methodist. Before returning from my holiday he usually asked me to meet him at No 56 where he would enquire after my welfare, schooling etc and present me with a book, usually signed "From your affectionate friend C F Cook". I believe Combridges is still at No 56, but I guess very different from those days 60 years ago. (early 1930's).
Aunt Ruth's role was that of "Housekeeper", not to Mr Cook who lived with his wife in another part of Hove, but to provide meals for the staff of those two premises who worked very long hours. There was a large dining room where lunch and tea was provided for the "young ladies and gentlemen". There were no first names used in those days except for junior staff. Aunt Ruth did the cooking and presided at table, but had a maid to assist with the chores.
I always had the treat of going to the beach for a paddle on those holidays, and on Sunday afternoons went to a spot near the coast guard station to listen to the Salvation Army band. On one occasion when old enough to be trusted to go about on my own I watched a Punch and Judy show and on giving an account of this to Uncle Joe I remember him saying "I don't suppose you saw Mr Papham there" Mr Papham was his Pastor from Galeed Strict Baptist Chapel!
Uncle Joe was an invalid and crippled for many years, but good fun. I often played games with him as he lay in his little back garden. I remember a friend of Aunt Ruth's a Mrs Simpkins taking me to Brighton pavilion once to an exhibition of fretwork models. The one I remember was of Milan Cathedral. If you dropped a penny in the slot it played a tune. Cousin Lottie also took me to both Brighton and Hove Museums which I greatly enjoyed. No 70 was near the Town Hall and at 9 o'clock each morning a tune was played on the clock of some traditional song but on Sunday it was a hymn tune. Sadly the old Town Hall was destroyed by fire some years ago and a modern edifice has replaced it. Thinking of the fretwork model of Milan Cathedral little did I think then that one day I would go to Milan and see the Cathedral in reality.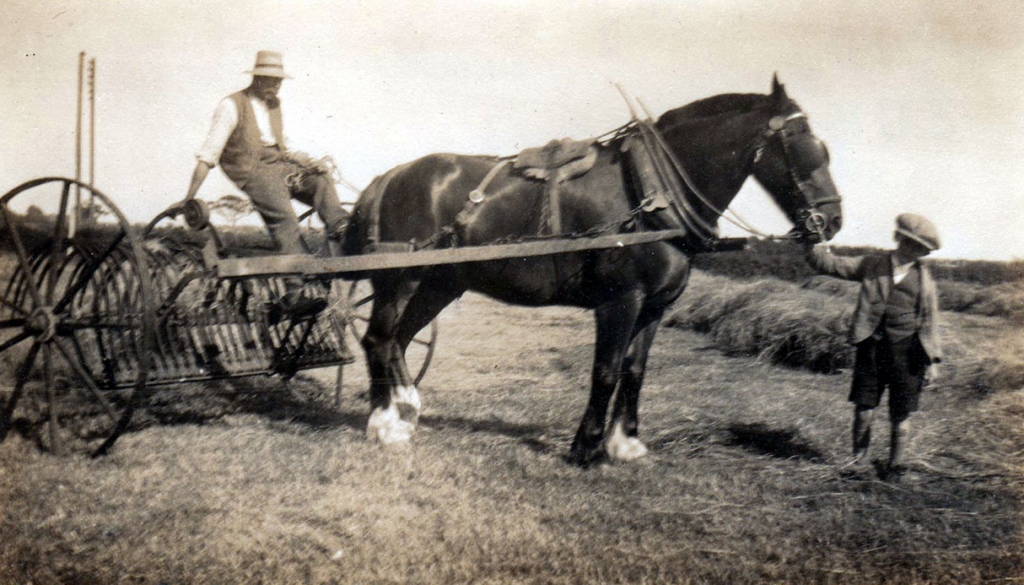 Grandad Pelling seated, Frank holding Bob the horse
The summer was an enjoyable time at York House as in June – July there was the excitement of hay making. For many years Grandad and Mr Charles Cottingham (who later became Uncle Charlie to me through my marriage to Nellie) helped one another, but later Grandad bought a one horse mower (most were drawn by two horses), this was pulled by Bob a very faithful steed who was used for all of the jobs a horse was needed for in those days, i.e. hay turning and raking into rows ready for the men to load on to the wagon with long pitchforks or prongs. Again Bob (photo above) pulled the hay wagon and at other times of year the dung cart, or the light cart that Granddad used to go to various other farms to buy chickens.
The chickens had been raised in the fields until about 12 weeks old by which time they were ready to fatten. Grandad was one of the "chicken fatteners" for which this part of Sussex was renowned in those days, Heathfield Market being the very hub of the poultry farmers world then. The chickens Grandad bought were put into fattening crates which were about four feet up from the ground, with slatted bottoms so that the droppings fell through. There were wooden troughs in front from which the chickens were fed a sloppy mixture of ground oats, skimmed milk (often bought from Glynde Creamery, which also bought the milk produced by Grandads cows) water was added to produce the right consistency and for two weeks the chickens would eat and begin to grow fat, but by then they began to go off their food so for about another two weeks they were "crammed". This was done by using a cramming machine which had a hopper at the top from which the food ran down to a tube which was put down the chickens throat into its crop. Two pumps on the treadle and enough food was forced into the crop for the chicken to go on being fattened. It must have been terrible for the bird when a learner carried out this operation because they might miss the gullet and choke the windpipe, but an experienced crammer could do it in the dark or with his eyes closed without any problem.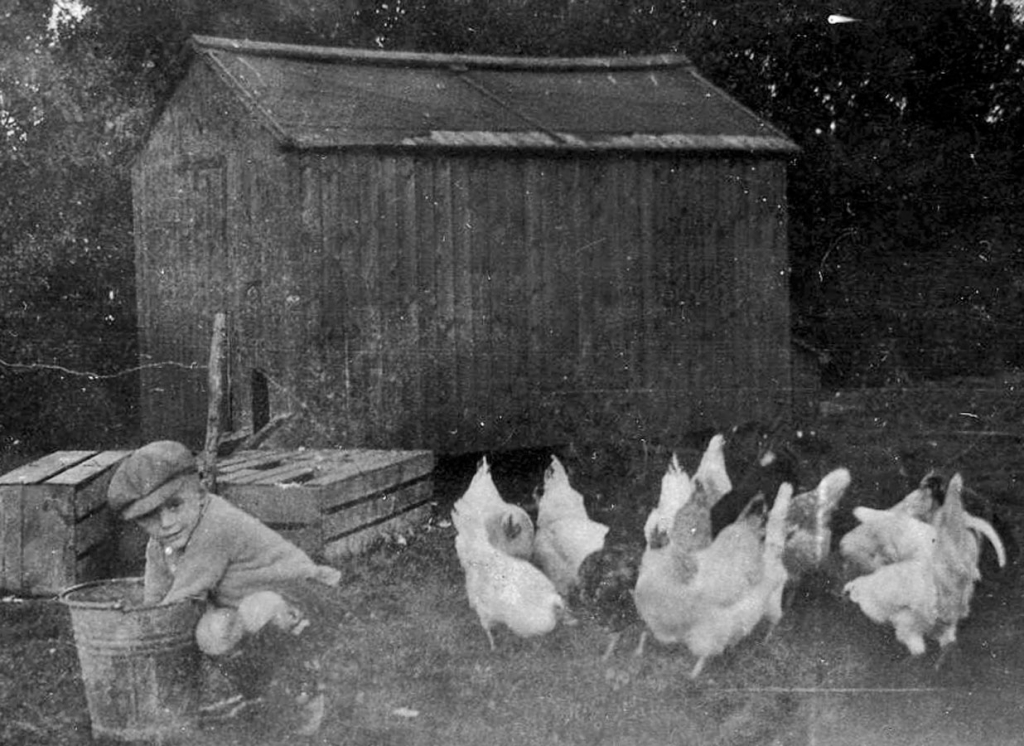 Frank and Chickens at York House
At the end of this time the chicken was ready to be killed and plucked and sent by the carriers, Routh and Stevens of East Hoathly to one of the large poultry wholesalers in London. For some unknown reason these birds with beautiful white flesh caused by the milk in their diet were known as "Surrey" chicken, but most of them came from Sussex. I believe that crammimg is now illegal, and certainly outdated now by modern broiler methods, but in those days it was never thought of as cruel.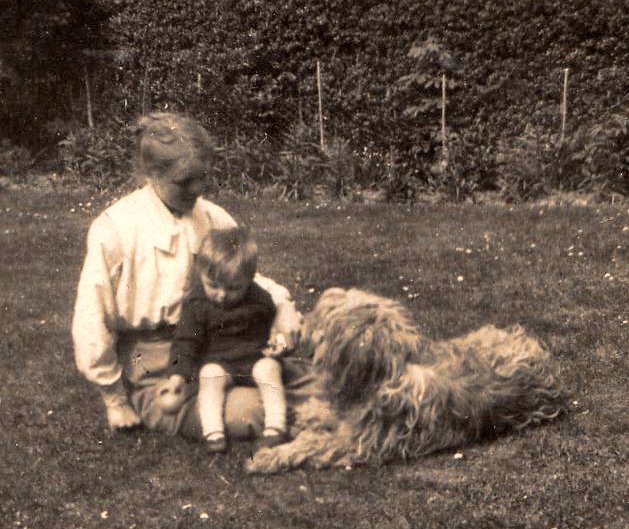 Frank with his Mum Kate. Kate "Pratt" died on the 19th June 1925 just before Frank's fourth birthday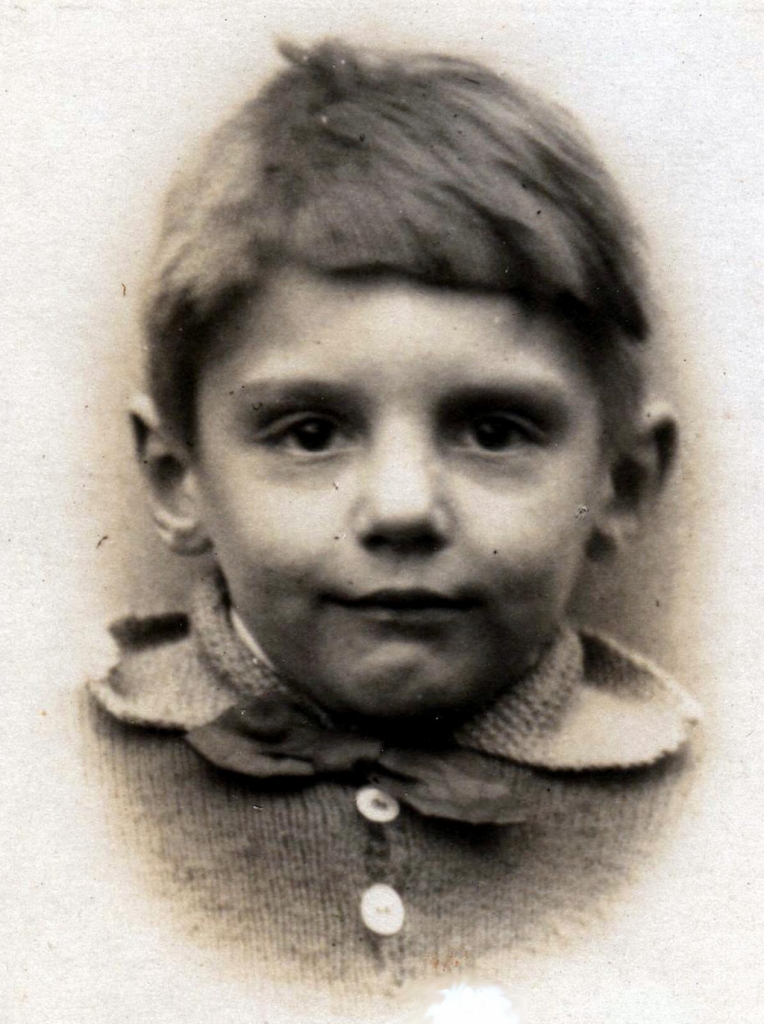 First School Photo
East Hoathly School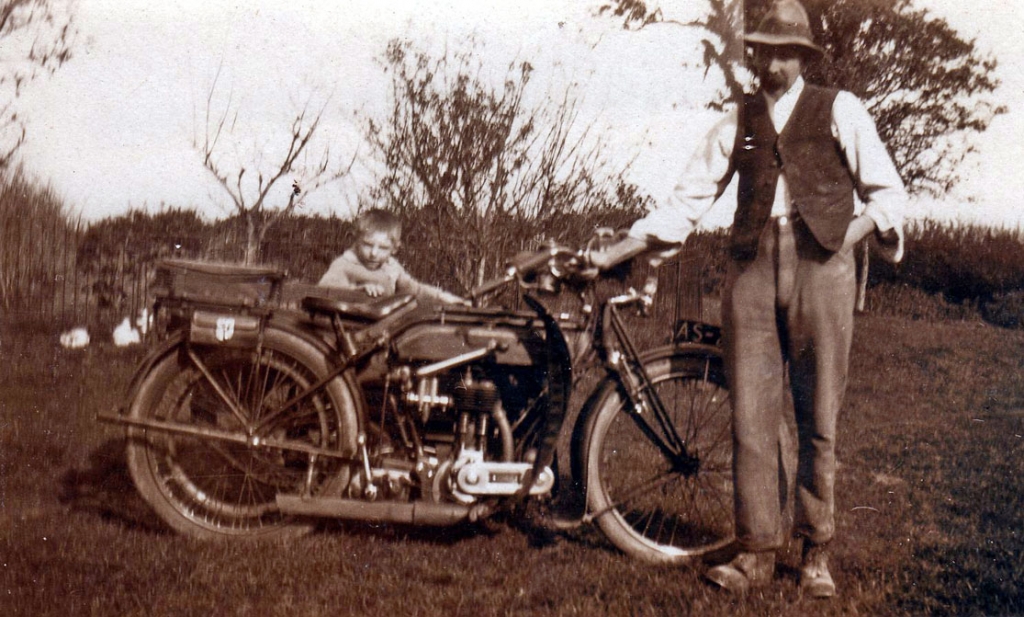 Frank with Grandad Pelling and his Motorbike