Frank and Nellie moved to Manor Park in January 1989. Moving to a bungalow suited their health issues more than a two storey house. The garden was larger than their Barcombe one but they looked forward to spending many hours redesigning it. Frank was now able to garden for enjoyment rather than for "work", Nellie had always enjoyed her time in the garden and it now became a passion for them both. They had a number of plants of great sentimental value and if stuck for a present something more for the garden was always appreciated!
Frank and Nellie joined the Uckfield Baptist Church and Frank was an Elder and they were Leaders of a Home Group. Frank also joined in the Grange Hall men's meetings on a regular basis.
It was in the early 1990's that Frank's eye sight deteriorated, he was diagnosed with Macular Degeneration and registered as partially sighted. He gave up driving and Nellie had to take over. He also decided that the time had come to give up Lay Preaching as studying became increasingly difficult. They still managed to visit the family for long and short breaks as well as continuing with coach holidays further afield or Nellie would drive to the New Forest, Dorset etc.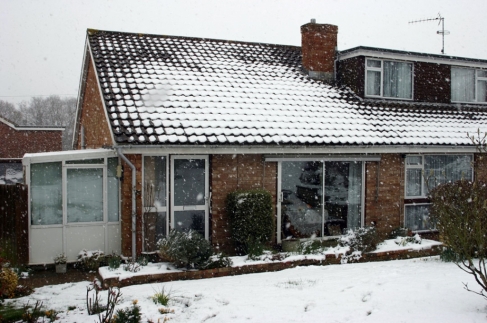 Frank and Nellie's house at Manor Park
In 1989 Joel Thomas (Richard's son) arrived, the one and only Thomas who could continue the family name! In 1993 the last of the grand children arrived Abigail Thomas, another daughter for Richard, making a total of 10 grand children. However it was not long before the great grand children started arriving!
In 1995 Harry was born to Deborah followed by Eleanor in 1998 with Shaun having the first of his children also in 1998, a son called Alfie.
In October 1996 Frank and Nellie celebrated their Golden wedding anniversary with a party which was attended not only by the family but also by the best man and the bridesmaids.
In the summer of 1998 Frank sufferd a stroke and simultaneously Nellie had severe angina problems. Frank was looked after at home while Nellie had a spell in hospital. Frank made steady progress managing to walk with a stick but other than slowing down managed fairly well. Nellie made initial progress but by the end of the year was having mobility problems. Over the years Frank had increasing problems both with mobility, hearing and sight loss and Nellie was herself increasingly disabled. Due to increased infirmity additional help was provided both in the home and garden and then personnal care was needed. Initially this was minimal but increased over the years until a live in carer was needed by 2010
Grandson Paul, Barbara's son, died suddenly from a Cerebral Anurysm in 2000. Frank managed the journey to Cornwall for the funeral but Nellie was unable to attend.
Frank and Nellie enjoyed attending both House Bound and Disability Clubs in Uckfield. This made a great change for them both to get out of the house on a regular occasion. They also were kindly taken to Church whenever their health allowed.
More great grand children arrived over the years. Ewan and Isaac, Katherine's twins, were born in 2001, Jasmine, Shaun's daughter was born in 2002, Freya, Rachael's daughter and James, Deborah's son were both born in 2004. Caleb, another son for Katherine, was born in 2005 and Alex, a son for Mark was born in 2006, making a total of 10 great grand children.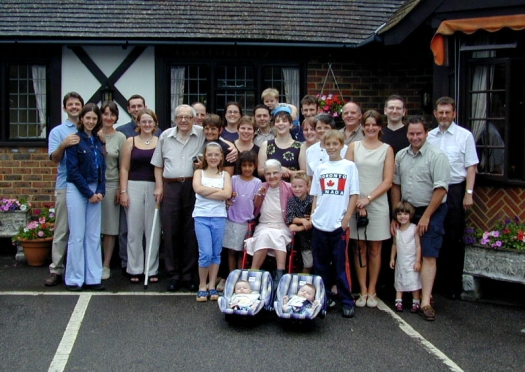 Gathering of the Clan! at Frank's 80th birthday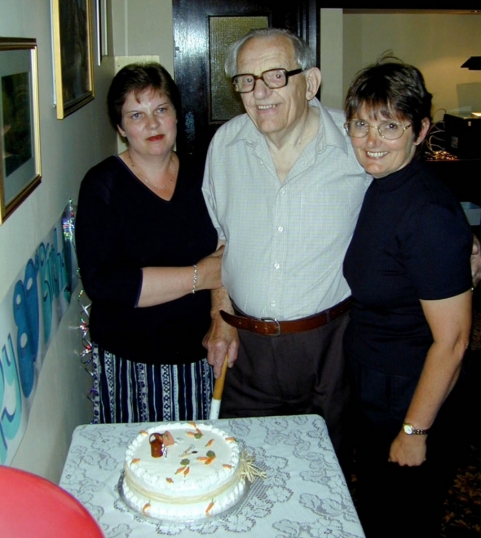 Frank's 80th birthday cake
Frank still enjoyed hearing about all of the family. He had a family party to mark his 80th birthday when all of the family attended. By his 85th birthday he preferred to have a smaller gathering also at the Halland Forge. (photo below)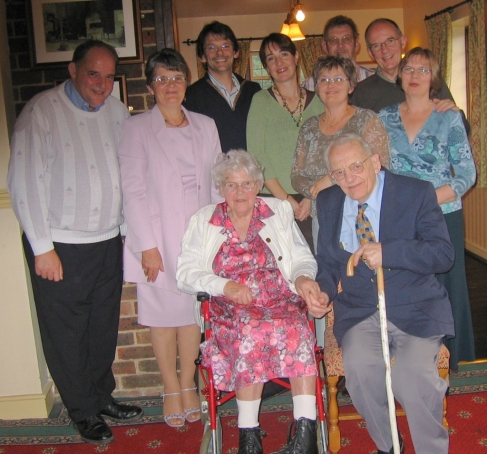 Frank and Nellie had a telegram from the Queen to mark both their 60th and their 65th wedding anniversaries. Photo below is of their 60th wedding anniversary.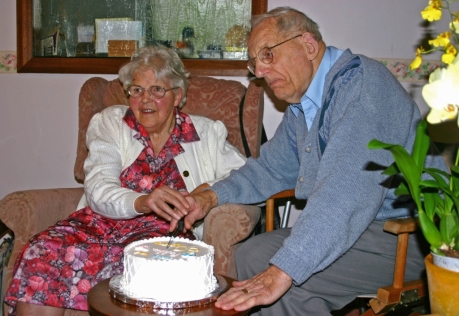 Franks greatest wish was to remain living at home with Nellie for his lifetime. This he achieved right up to the last few days of his life when he needed the qualified care that Uckfield Hospital could give him. He died peacefully on 4th July 2010.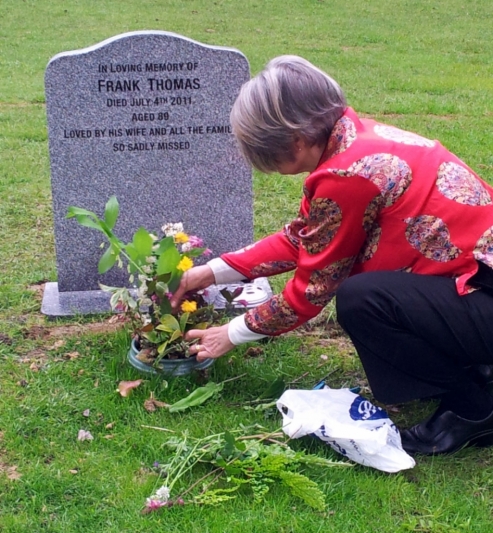 Frank's funeral was held in a packed Uckfield Church, attended by his family, many relatives and a large number of friends who all had nothing but praise for this kind, humble, gentle man. He is buried in Uckfield Cemetry, Snatts Road, Uckfield. Below are some pictures of Frank's Service of Thanksgiving booklet.