Although not actually in the Land Army Nellie was given exemption from being called-up provided she remained working on the farm at Crockstead. As can be seen by the image below not only did Nellie work very long hours on the farm she also undertook nighttime "Fire Watch" activities looking for fires that started as a result of explosive and incendiary bombs. If you were up all night either putting out fires or watching for them you still had to turn up for work in the morning! Nellie wrote some notes much later on, you can see below some of what she wrote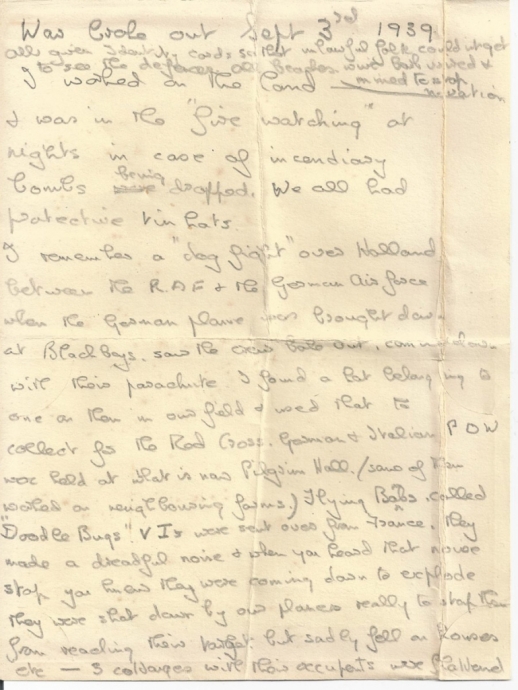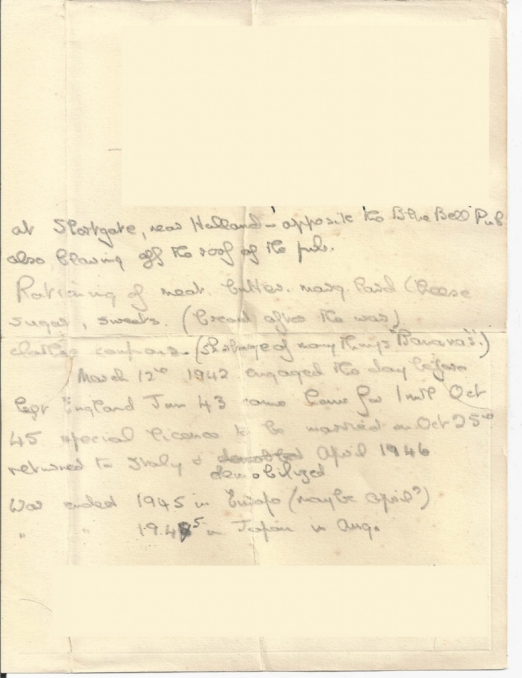 If you have difficulty reading what Nellie wrote in pencil in the notes above, below is a transcription.
War broke out Sept 3rd 1939. All given identity cards so that unlawful folk couldn't get to see the defences. On beaches with barbed wire and mined to stop invasion
I worked on the land & was in the "fire watching" at nights in case of incendiary bombs being dropped. We all had protective tin hats.
I remember a "dog fight" over Halland between the RAF & the German Airforce when the German plane was brought down at Blackboys, saw the crew bale out coming down with their parachutes. I found a hat belonging to one of them in our field & used that to collect for the Red Cross. German and Italian POW's were held at what is now Pilgrim Hall (some of them worked on neighbouring farms). Flying bombs called "Doodle Bugs" V1's were sent over from France. They made a dreadful noise & when you heard that noise stop you knew they were coming down to explode, they were shot down by our planes really to stop them from reaching their target, but sadly fell on houses etc. 3 cottages with their occupants were flattened at Shortgate, near Halland, opposite the Blue Bell pub, also blowing off the roof of the pub too.
Rationing of meat, butter, marg, lard, cheese, sugar, sweets (bread after the war) clothes coupons, (shortages of many things including bananas)
March 12th 1942 engaged the day before, left England June 43, came home for 1 month Oct 45 special licence to be married on Oct 25th returned to Italy demobilised April 1946.
War ended 1945 in Europe (may be April) War ended 1945 Japan in Aug.
-------------------------------------------
The story about the German Airman's hat is corroborated by the image below of a letter from "Mr C D G Hoare" Hon Sec of the British Red Cross Society Uckfield & District Motor Ambulance group Who gives his "permission" for the Airman's Hat to be shown to help raise funds for the Red Cross!
The first paragraph of the letter acknowledges the receipt of £3 collected by Miss N Cottingham, it is dated Sept 3rd 1940. The last paragraph declares that "Miss Cottingham is showing a German airman's cap which she picked up in her father's field at Halland after three parachutists had come down close by on Friday August 30th 1940. It is authorised by Red Cross to collect for the souvenir. "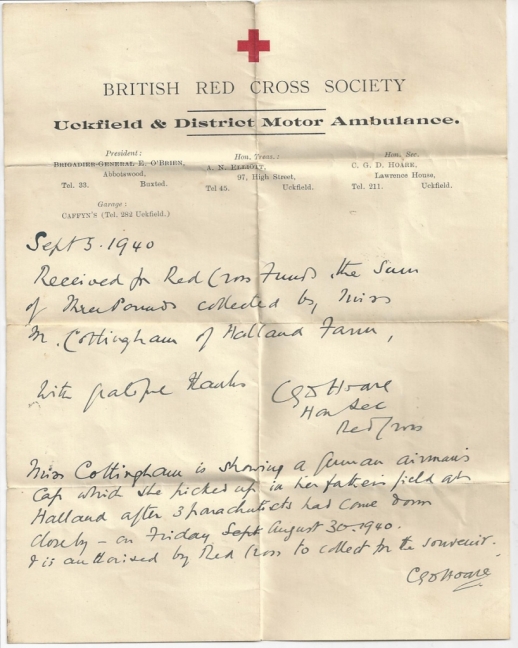 In addition to the duties already mentioned Nellie was also involved with First Aid in the Red Cross, she carried on her association with the Red Cross for many years after the war. She spent many hours raising funds for the Red Cross during the war, evidence is pictured here.